Solving the Border Problem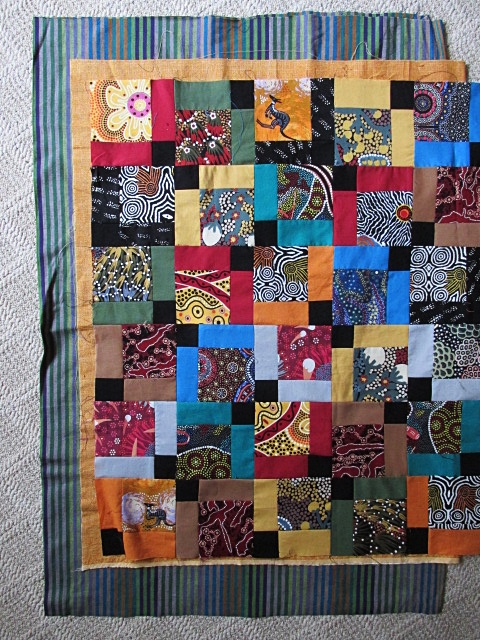 One of my previous blog entrys was about making this scrappy wall hanging from the scraps left over from an Aboriginal skinny quilt  (see "Disappearing 9 patch").  These fun fabrics have a lot of movement to them and a lot of bright colors.  I did not realize when I made this quilt how difficult it was going to be to find the right fabric for the border.  I found this slightly textured pumpkin colored fabric in my stash which would make the perfect inner border.  I knew I needed something that was almost solid that would give the eye a place to rest.  I did a dry fit (no sewing involved) with this fabric coupled with a tone on tone black print for the outer border and it was too Halloweenie.  A few days later, I made a run on a fairly large fabric store and could not find the right border fabric there.  I had several of the sales people helping me out and with no luck. 
This past Saturday my husband Tim, who occasionally fixes a clock or two for people (he's a certified master clock maker), needed to deliver a clock back to someone who lives up in New Hampshire so we headed for the border.  The owner of the clock just happens to sell and repair sewing machines and my Brother machine has been acting up when I am making the coiled fabric bowls.  He gave it a look/see and said he couldn't see anything wrong with it and he felt it would be ill advised for him to start ripping into a practically new machine.. A zig-zag stitch  is used when sewing the coils of a fabric bowl together and the zig-zag was not catching on the outside of the stitch so it was not only leaving a hole in the bowl but also the stitch ended up looking like a straight stitch.  I sewed part of a bowl in front of him so he could see EXACTLY what was going on. He asked me a bunch of questions, including what needle was currently on the machine and what size.  It was a microtex (sharp) needles size 70/10.  He went in the back, rummaged around and came back and handed me a pack of needles and said "try this".  I had to rethread the bobbin (he was standing right there) and he told me I was not threading the bobbin correctly...(WHAT!!!) It is a top loading bobbin and when you thread it, you put the thread through a thread guide and it needs to come into the thread guide from the top of the bobbin, not the bottom. OMG!  If only I had know this it would have saved me so much grief!!!!  Also, the needle I was using was not large enough.  He gave me a 70/12.   Long story-short...it is now sewing beautifully.  Yea, I am feeling a bit foolish about that whole bobbin thing but I am so happy and relived that it was something that simple along with using a heavier gage needle.  WOW!  THANK YOU RUSS!
On to our next stop, a fabric store.  I wasn't hopeful about finding the border fabric since this is a much smaller store than the one I was in previously.  I poked about and pulled a new bolts out and did a quick "dry fit" with various fabrics.  The last one I looked at was this stripe which had just about EVERY color in it that is in the wall hanging.  I'm kinda liking it so I had them cut me off a hunk and I took it home.  I will miter the border so that the strips are perpendicular all the way around and call it done.  So, two of my sewing  problems got solved by heading up over the border.  I also got a nice meal at a Mexican restaurant out of the trip so all and all, I would say I had a good day!