Stringing things together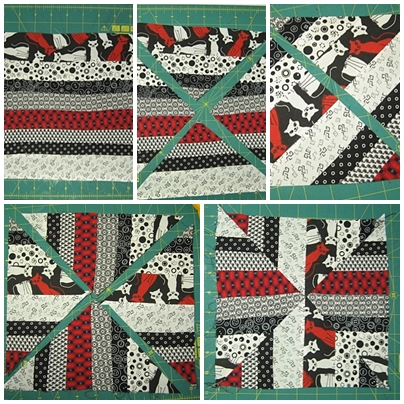 A few years back I happened upon a store that was moving and they were getting rid of all of their books so I bought "Focus on Batiks" by Jan Bode Smiley.  It has been sitting around collecting dust every since.  A few days ago I picked it up and was browsing through it and there was this black and while scrap quilt (not a batik) and there were 3 methods for making these strip-pieced blocks and that fascinated me.  The author was nice enough to explain the advantages and disadvantages of each method so this week I made an 8" block using all three methods.  Since I felt that the black and white prints in the featured quilt were a bit monochromatic, I decided to throw in a couple of  red, black and white fabrics to add a bit of interest.  I have always liked quilts that employed these 3 colors and this was a opportunity to play around with those colors and try out some new techniques.  I did indeed try all three technics and preferred the third one.  It was by far the easiest and quickest.  So, that is the one I will report on.
The fist photo in the top left hand corner is the various and sundry fabric strips sew together.  Since I wanted a finished 8" block I guessed that a 9-1/2" square would be the proper size.  Once all the strips are sewn together and pressed using spray starch, the next step is to do a little trimming to get that 9 -1/2" square and then cut it in quarters from corner to corner reaping you 4 triangles.  Pick up the opposing triangles and sew the two long sides together which will give you two new squares.  You then cut these two squares from corner to corner (photo on the top right)  The four triangles that each of these two squares reap are than juxtapose opposite each other with the long sides on the outside of what is to be your finished block (photo on the bottom left). Sew them together and press.  WHA-LA...a visually interesting looking block.  Now, if more variety is wanted in the way in which the fabrics fall, one can always make more than one block.  The quilt that was pictured was a lap robe with 9 large blocks that were on point with triangles sewn onto them and then a black sashing was added.  The fabrics did not line up in the way they did in my block because they were made all at once and one triangle from one block was sewn together with a triangle from another block.  If the same triangles are used from the same strips obviously they will line up the way they did in my block. What I like about this block and this method is that it  LOOKS a lot more complicated than it is to make.  On another quilt in this book she did indeed feature batiks - a block using only blue batiks, a block that was yellow and green and then two of the blocks with red triangles mixed with blue triangles.  They were put on point with batiks triangles sewn onto each side and it was called "String Symphony" since there were so many different narrow strips used in a real symphony of colors.  I like this technic  and am glad I now have it in my arsenal!