OH Brother!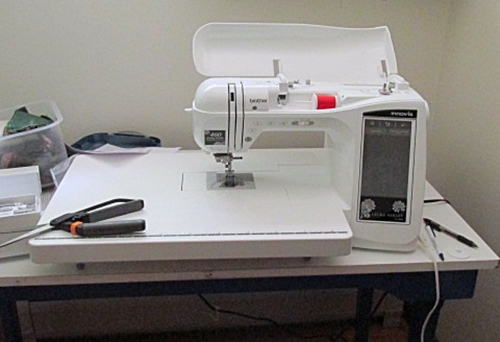 YUP, I have a brand spanking new sewing machine.  It is a Brother NX 2000.  It is completely computerize and one communicates with it via a touch screen.  Being that I am not the most computer savvy person, this was a big step for me to take not only financially but also tech wise.  I few week ago I went to a fiber arts show. The show was machine quilted wall hangings.  I saw some very lovely work and realized that with my current machine, I would have not been able to produce the same work that these artists had.  My  friend Margaret sells Viking sewing machines in Pennsylvania so she was my first point of reference.  She suggested I get on the Vikings web site and familiarize myself with the various machines.  She also told me that Viking and Pfaff (I have a Pfaff) are now the same company.  My husband and I went on vacation last week to the Poconos and I was planning on visiting Margaret, testing the Viking machines and possibly purchasing one from her.  When she found out we were vacationing in the Poconos she suggested I visit a sewing machine center there.  I checked them out on the web and they were an authorized dealership for many different brands...COOL!   Last Monday we drove to the town the sewing center is in and found it in complete disarray.  There had been a fire in the apartments above the store and the store had started moving to a store front across the street. The new location did not have any sewing machines set up...YIKES!  I was told that there would be having a fire sale in a couple of weeks, could I come back then...aah, No, unfortunately I am in the area for only a week.   The majority of there machine inventory was in the basement in there original boxes so their machine inventory had not been damaged.  I asked if they would be willing to set up a few machines for me to try out.  They were very obliging and I returned the next morning and tested out 3 machines.  One of them was a Pfaff.  I also tested out an Alna and the Brother which I ended up purchasing a few days later.
The next day, my husband Tim and I did a bit of touring and at the end of the day we stopped in at the Viking gallery in Allentown, PA where my friend Margaret works.  She showed me a couple of machines and I had the opportunity to play a bit.  What was rather interesting was that earlier in the day I spotted a sewing center in Pottstown and so stopped in there.  They sell Baby Lock and Brother machines.  I asked the ladies which machine they personally owned and it was the Brother NX 2000.  They pointed out a Baby Lock and asked me if this was the machine I had tested up in the Poconos and sure enough it was the EXACT same machine but it said Baby Lock on it.  Interesting.  On Thursday we went hiking.  When we got back to our vacation rental I got on line to see what people had to say about this machine.  Most of it was good but it was suggested I test this model of Janome before I purchased the Brother machine.  I called the sewing center and asked if they had one I could test...yes, they did.  The next morning I went back and they had a few more machines set up and I was able to do a side by side test of the Janome and the Brother.  I decided that the machine I liked the best was the Brother and I was able to take advantage of the fire sale price.  Of all the machines I tested I felt this one was the most user friendly.   User friendly is very important to me since I do not live close to a dealership and am going to have to teach myself how to operate this machine.  
There is a 159 page owners manual and two other quick reference guides.  The machine came with 46 different accessories and a detachable table which will make sewing larger items easier to handle.  I have been feeling a bit overwhelmed but I keep telling myself that eventually this machine will feel like an old friend just like my Pfaff.  I made two baby bibs yesterday and did a little applique on one of them. Decided to start out small.  I asked a lot of questions to all the sales ladies last week and not only found out a lot about sewing machines but also gleaned some very useful information about sewing in general, needles, threads and technics.  I love the thread cut off already on my new machine and have been experimenting with all the different stitches.  There seems to be an endless supply of them!