and a good time was had by all!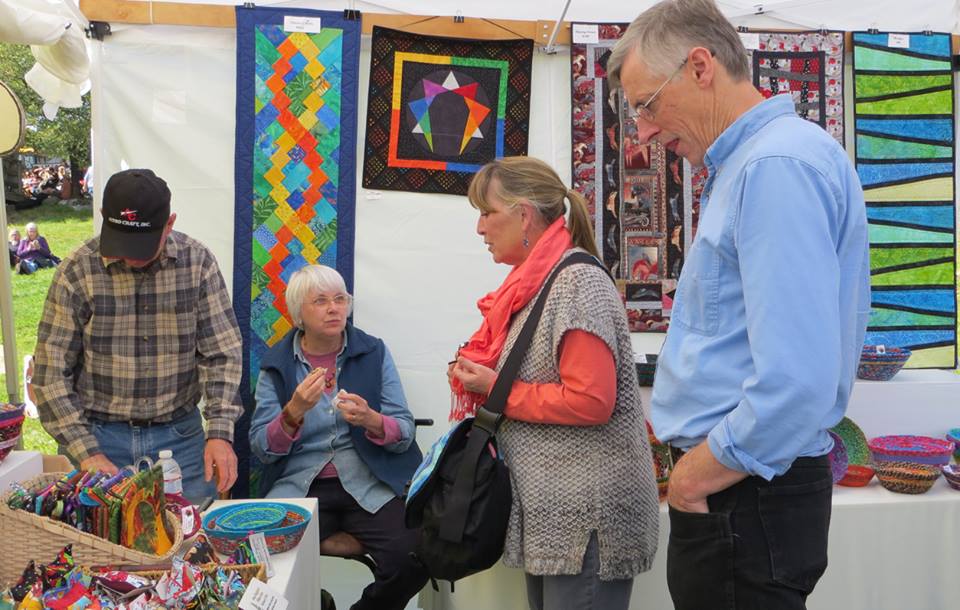 This past weekend was the MAJOR event in the area, the North Quabbin Garlic & Arts Festival.  This was my third year applying for and being juried in and YES is does take a lot of inventory to fill up a 10' X 10' booth.  There are a lot of things that are lovely about this festival.  It's close to home...a HUGE plus.  Since it is on private property and a bit out of the way, you can set up the day before and at the end of day one, zip up your booth and walk away.  None of this having to break it down and set it up for day two.  These things  probably do not make much of a difference to the general public but to us vendors...this is HUGE.  Another lovely thing is that since it IS close to home, lots of people we know like our friends Ben and Cindy who are in this photo with myself and my husband  Tim, stop by and say hi.  Another great thing is that it is non profit...the only people making $$ are the vendors and some of the booths are not selling anything since they are informational and/or community service driven.  
It is no easy feat getting ready for a 2 day HEAVILY attended festival.  It take a Herculean effort to have enough inventory so that the booth doesn't look half empty by Sunday.  I am very pleased that I sell enough of may wares that it covers my expenses for the year.  There are only 35 artisan booths and many more than that apply and the organizers (all volunteer) do a great job jurying in a good mix of local artists.  If you are not from the 9 town North Quabbin area you need not apply.  The organizers INSIST that EVERYTHING in your booth be made by you and that you man your own booth.  Also, if you have a booth you need to put in time either helping set up or break down the festival.  I put in my hours yesterday helping with break down and clean up.  In fact, the entire festival is run by volunteers and they manage to run this entire event on a $30,000 budget.  It costs $5 to get in and kids are free. The artist booths are only a small part of it.  There's musical entertainment, cooking demos, workshops, story telling, a climbing wall, a garlic eating contest, and WONDERFUL foods vendors just to mention some of  what attendees can and do enjoy.  
The overall personal experience is that I had a VERY good weekend and sold LOTS of my work.  The only thing I did not sell any of were the table runners.  If I did not have the capability of taking credit cards my sales would have been half of what they were because my cash sales have been consistent every year so far.  The largest item I sold  was one of my "show pieces", the Dancing Horses wall hanging.  Also, the market bags sold very well.  On Sunday I had a promotion going.  If you buy a coiled basket that is $30 or more, you get a free coaster.  Just my way of saying thanks to by customers.  Sales wise, Sunday was a much better day than Saturday even though both days the weather was gorgeous.  I  got to meet lots of nice people and was amazed that people were from all over New England.  The person who look the above picture is from Australia.  Yup, this festival is VERY well publicized and people come from all over 
Orange, Massachusetts, where this farm is located, has a population of aprox. 6,500 people and it is VERY impressive that people have to drive over dirt roads (or take a shuttle) to get to the festival site and last year something like 13,000 people attended.  The 2 performance stages are solar powered.  So, you may be asking yourself how much garage does this festival generate?  2 or 3 garage bags of outright rubbish.  This is a VERY green festival and EVERYTHING else is recycled or composted...EVERTHING else...pretty impressive if you ask me.   AND, from what I could see from booth #97, a good time was had by all.   http://www.masslive.com/news/index.ssf/2015/09/crowd_turns_out_for_2015_...