Trip to Lancaster County part 1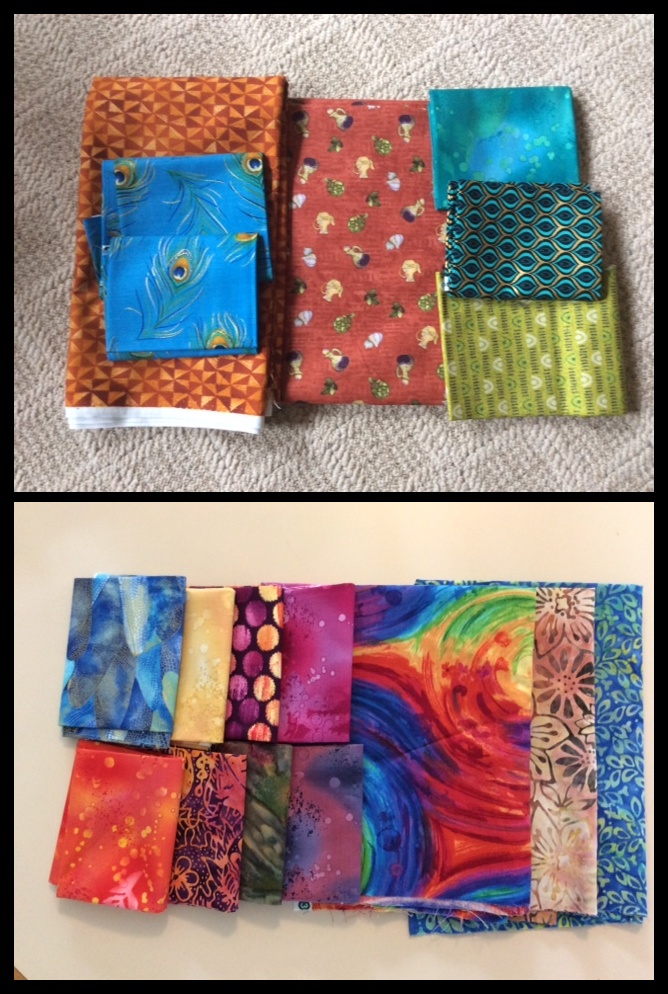 Three years ago, my husband and I took a trip back to Lancaster County for the first time since we had met there in 1974. This part of Pennsylvania is a Mecca for fiber artists. It is known for it's glut of fabric stores with VERY competative prices.  Because of this, I was looking forward to this year's trip with great anticipation.  The idea was to find fabrics for the orphan fabrics in my stash so they can be converted into sellable items.  The 2 weeks leading up to the trip was spent organizing my stash and pulling fabrics needing a mate or 2.  
I found a great hoouse for us to rent walking distance from my favorite fabric store, Zook's in Intercourse, PA.  We packed up the car and left early Saturday a.m.., May 4th for a week of fun, relaxation and of course, fabric shopping.  I contacted my friend Margaret, who lives in Allentown, PA and is also a fiber artist and she was going to visit us and do a bit of shopping on Wednesday.  Since she is a very old and dear friend, we were very much looking forward to catching up with her.
Upon arrival and the car unloaded, and since Zook's was open until 5 pm, I grabbed my fabric bag and took off, just to get my fabric shopping whistle wet.  HOLY COW, they are having a 20% off sale next week and all fat qtrs., $.99.  It was like I had died and gone straight to heaven!  At the check out counter I was asked if I was going to be going to the quilt show.  What quilt show?  The one in Lancaster May 9-11.  OH MY, what a delightful surprise.  
First thing Monday morning it was off to Zook's.  They have a large selection of discounted $4.99/yd. fabric and at 20% off...a GREAT DEAL!  Even with the non discounted fabric, the 20% is like getting 40% off at New England fabric stores AND I can come back as many times as I want! I shopped for aprox. 2 hours.  The photo is of just a small % off all the fabric I purchased throughout the week.  Weren't Margaret and I going to have fun shopping here together on Wednesday!  How I shop is I pull any fabric that looks like a good match to the one I brought with me and then decide which one is best.  I was looking forward to having another fiber artist help me make those final decisions. 
Tuesday morning, I received a text from Margaret.  She had to take her husband Larry to the ER, breathing problems, and she was not going to be able to make it on Wednesday.....OH NO!   I went off to Zook's for my a.m.. shopping trip a bit dissappointed and concerned about Larry. Margaret let us know later in the day that Larry had been checked into a room and was resting comfortably.  Thank goodness!  She also invited us to come to Allentown for lunch out on Wednesday instead.  My husband Tim and I discussed it and felt it would be a shame to come all this way and not see Margaret so i asked her to text me her address.  
Margaret makes fabulous coiled fabric bowls, in fact, she is the reason I am making them now.  I saw a photo on her Facebook and OMG, I have got to learn how to make these.  The previous week Margaret indicated that she was a bit low on purples in her stash and would be looking to fill that gap in at Zook's.  On my Wednesday a.m. shopping trip (store opens at 8 am an we didn't need to leave for Allentown until after 10), I picked out 3 purple fat quarter to take to Margaret.  I, of course, did some personal shopping also.  I was determined to FULLY take advantage of the sale and $.99 fat quarters.  My profit margin for my business is very low any $$ I can save on fabric is important. 
We had never been to Margaret's house.  Upon arriving, she gave us the tour and what a delight!  It is a duplex in a very nice older neighborhood AND she can walk to the hospital to visit Larry.  PERFECT.  My favorite part was, of course, checking out her stash of coiled fabric bowls.  She does several shows/year so there were a boat load of them.  Many questions were asked (by me).  She makes square and rectangular bowls and she explained how she does that.  Looking forward to trying that out!
On Thursday, we hit the quilt show after lunch.  I will write about that in a separate entry.  We finished at the quilt show at 4 pm so we went to to Weaver's Dry Goods in Lititz, PA.  This was suggested by a fellow shopper at Zook's.  HUGE store but no 20% off sale.  I found 2 fabric to go with a couple of hard to match fabrics I had brought with me in their discount area which is a poorly lit area on lower level.  Weaver's is a primative/country gift shop that also sells fabric.  The place is HUGE!  You could easily blow most of a day checking the place out.  Since I was foot worn from the quilt show, I was in and out in 45 minutes.  I was VERY pleased that I had found something to coordinate with every fabric I had brought with me. Mission Accomplished!  
Friday morning dawned.  After breakfast Tim asked me if he could drop me off at Zook's on his way out antique shopping.   I had found everything I had been looking for.  He says want about dessert?  What about it?  So, you've twisted my arm.  The fabrics in the bottom pic I purchased Friday a.m..  Zook's is next to a great shopping area, the Kettle Kitchens shopping mall so I went looking.  I got a gift for the daughter and a fine looking t-shirt for myself.  While I was  finishing up my phone rang.  Husband said where are you?  Tim was back in town and right across the street.  A  fun morning was had by all!   A lovely and relaxing vacation indeed.  Will blog about the quilt show another day.  Link to post about our previous trip to Lancaster in 2016:  http://newenglandfiberarts.com/node/266