About The Artist
Sandra Tobin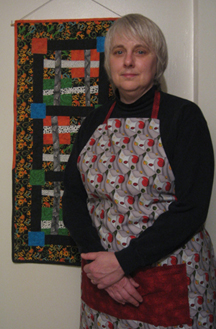 New England Fiber Arts                                  
Sandra Tobin was born in Roxbury, New York.  In her formative years, she attended Bowman Technical School where she learned the art of hand engraving.  After graduation, she began to study calligraphy to further enhance her understanding of different lettering styles.  This eventually led to a unique combination of artwork and calligraphy which she sold on private commission and in galleries.
The transition into the world of quilting and fiber arts was a natural and surprisingly easy next step.  It allowed her to combine the artistic expression of color, with the creation of concrete, practical items.  These items ranged from balsam pillows and baby bibs to coiled fabric bowls reversible aprons and table runners. She eventually branched out into larger wall hangings, baby blankets and full size quilts.  All her work is handcrafted and durable enough for everyday use, but she still makes room to explore the full range of expression available in modern fabric design.
Sandy is an active member in the local art and crafts communities, and is a member of the Shelburne Arts Cooperative, located in Shelburne Falls, MA.  She has also participated and help organize several local holiday pop-up shops.  One of these shops led to the organization of a local non-profit arts co-op with a Main Street storefront serving both the public as well as the local arts community.
" I am basically self-taught and have learned my craft through study and experimentation.   My real passion lies in making items that are both practical but also artistically distinctive.  I feel what sets my work apart is the interplay between interesting and unusual fabrics coupled together with fine workmanship."
Sandy currently lives and works out of her home in New Salem, Massachusetts where she lives her husband Tim.  Her work is sold in shops and galleries throughout New England.