Monochromatic creation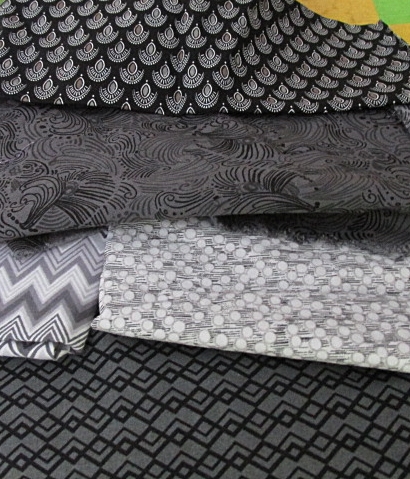 It has been 2 years since I started making the coiled fabric bowls.  I have enjoyed bringing together all sorts of fabrics with their different patterns, colors and textures.  It truly has been a challenge to not only figure out how to make a good looking bowl but also what fabrics and threads to use together.  This week, I decide to take on the challenge of making my very first black and white bowl.
One of the things that I discovered shortly after I started sewing some 15 years ago is that I love color!  Over the years I have gotten more and more comfortable, confident and bolder with my color selections.  When I look at fabric I get a sense of what colors and textures to put together.  I found myself feeling rather intimidated at the prospect of making a monochromatic bowl.  I went though my stash and pulled out what I thought would be some interesting fabrics to work with and looked at them for a few days.  I usually like a challenge but this one, I was kind of putting it off.  I even sent this photo of the fabric to my friend Margaret who has been making these bowls a bit longer than me to ask her opinion.  I finally cleared the decks, put away all the colored fabrics and left just the b & w fabrics on my cutting table.  There were lots of questions in my mind...should I use all of them, just a few, how much of each?  I choose 4 of them to work with and decided to go whole hog and make a largish bowl.
Once the fabrics were picked, the design began to fall in place.  One of the "hints" Margaret gave me was that sometimes what the bowl needs is some plain black to make it all come together so I decided to put 2 rows of the plain black as the lip.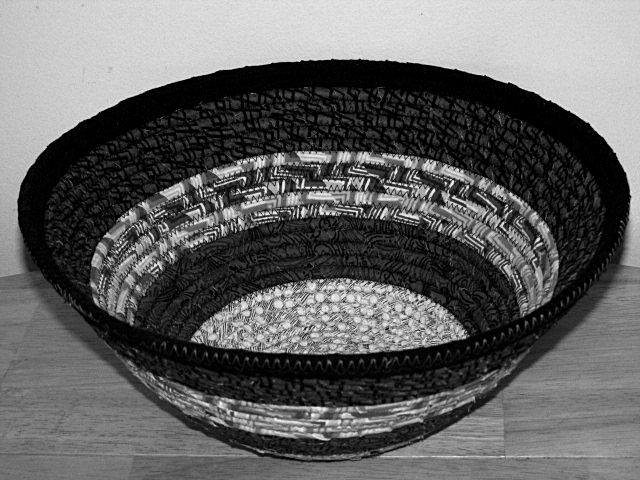 B & W bowls are all about texture and contrast.  With color you can add the contrast by changing to a new color.  Here the drama can be very startling and I have to admit, I liked it!  The white/gray/black chevron fabric ended up being the most interesting.  I really liked how it looked once it got wrapped and sewn in place. This bowl actually ended up better than I expect and it also ended up being one of the largest bowls I have ever made.  It has a certain feel to it which I like and I now feel that monochromatic bowls can be just as inviting as colorful ones.  But, it was interesting to see just how uncomfortable I was once my color pallet was taken away but I am glad I took on this challenge.  It's always good to get out of ones comfort zone just to see what might happen!