I'm on the fence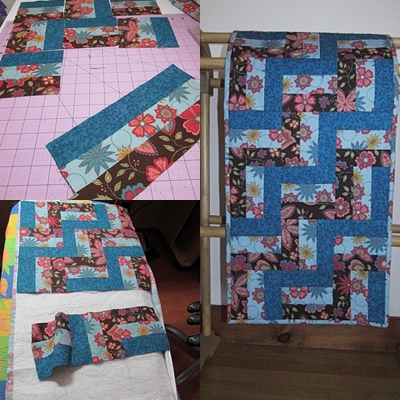 This past week has been all about finishing my Spring collection and getting it delivered to the shops.  Last Saturday I made a delivery to a new vendor who is located in South Deefield, which is about 20 miles southwest of New Salem in Connecticut River Valley.  I had made a bowl to match the Santa Fe market bag which is pictured in my previous blog entry.  I had also made this daisy collection which was featured in the blog entry 2 weeks ago.  Both of these collections ended up at this shop plus 2 more the small shoulder purses and some hot pads.  I stopped at the Leverett Village Co-op, who also carries my work, since it was sort of on my way home. I was pleased to see that they were getting low on my stock.  I made a delivery to them this morning; two down, one to go.
My husband and I have been planning a weekend trip to the south coast of Maine for a while now.  We will do a bit of shopping, have a nice dinner, spend the night and will combine it with business since I need to deliver some work to Mainely Quilts, which is in Kennebunk, ME.  I few weeks ago I made several blueberry themed items in preparation for this trip (see A Blueberry Feast http://www.newenglandfiberarts.com/node/218).  I wanted to make one more table runner to take so that was on the agenda for this week.  I had never made a fence rail runner before and thought that this group on blue and brown fabrics would make a nice one.  First I cut out a bunch of 2" wide strips along the width of the fabrics and sewed them together. Next I cut 5" squares out of these units.  They get laid with the stripes going vertically and then then next block horizontally.  It ends up making this interesting zig-zag pattern.   I attached  3 blocks across and had 8 rows of this alternating horizontal/vertical pattern.  
Since this is a fairly straight forward pattern, I thought why not do it at this point as a quilt as you go since there wasn't going to be a border.  I was careful to keep the rows perfectly vertical and pressed every row as i added it.  What you can't see in the bottom left photo is that is a "sandwich".  The backing fabric is under the batting so as I am attaching each row I am also attaching the batting and the backing all in one fell swoop!  All that was left to do was to bind it and there was plenty of the lighter blue fabric to make the binding out of.  I got it done all in one day and it, along with all those blueberry themed items, is ready to delivery to Maine tomorrow.......YEAH!