Happy May Day!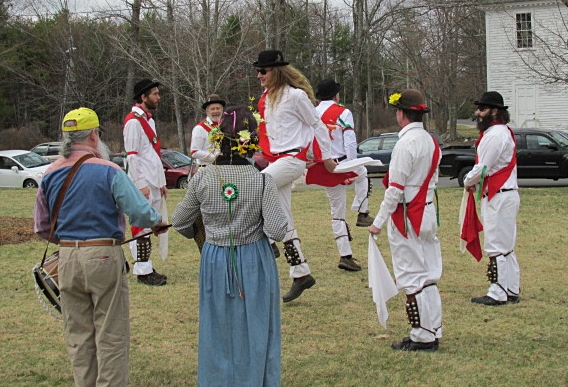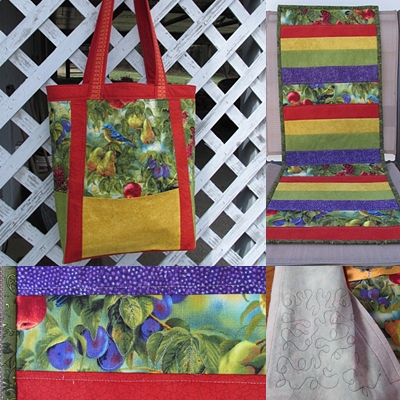 Since by husband is a Morris dancer, May Day is a big deal to us, especially considering the Winter we just went through.  The husband is a Miller's River Morris Man (MRMM) and their first outing every year is at a the Village School which is a local private pre K-6.  My 27 year old daughter use to watch her Dad Morris Dance at the Village School back when she was a preschooler.  It is our way of ushering in the Spring so I took time out from work to go to the festivities.
This week was about working with this wonderful large print fabric that is alive with all sorts of birds and fruit.  I have made many balsam bird sanctuary sachets but this was the first time I had made something much larger from this delightful fabric. I had run out of the fabric and I had gone to purchase more when the sales associate that was cutting it for me said she had made a tote bag from the fabric.  Of course, that got me thinking, yup, it would made a wonderful market bag.  I blogged about the design of this bag and how it is assembled a while back so if you are curious, here is the link http://www.newenglandfiberarts.com/node/145 
The first thing I did was check through my stash and I had EVERYTHING I needed except I needed more of the red that I had in stock.  Unfortunately, the fabric shop where I had purchased it had sold out of it so I selected a red crackle.  Once the front of the bag is assembled, one needs to do a bit of quilting on it.  I am the first to admit that I am not the best free motion quilter.  The bottom left photo shows the back of the bag once I had finished quilting it.  The only way to get adept at FMQ is to practice and I have not devoted myself to this.  I manage to get by with what I do but I see LOTS of room for improvement.  The top right photo shows the completed bag.  I was very pleased with the way the coordinated fabrics had come together, so much so that I thought, hey, how about a table runner/wall hanging.  I decided to go with a quilt as you go (QAYG) runner which I added to my arsenal a couple of years ago http://www.newenglandfiberarts.com/node/170.  I made the bird sanctuary strips 1/2" wider than the rest in order to best show off it's lovely design.  To further enhance the overall effect of the piece I did some free motion quilting on the bird fabric using metallic gold thread (see close-up of this -bottom left photo).  I then added one straight line of quilting above and below in the adjacent strip to the bird strip.  I did the binding with a elegant tone on tone print in a darker olive green.  I can visualize all sorts of things made from this fabric...like curtains!  I am taking the market bag to put on display at the Shelburne Arts Co-op today.  Here's hoping it finds a new home!