Everything is coming up Peacocks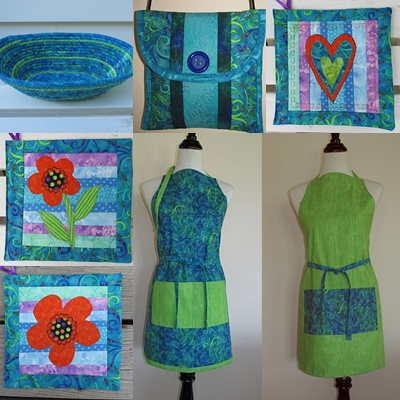 Sometimes  I get lucky and find a fabric that not only has all my favorite colors combined but also a design that I love.  Throw in some purple swirls and little orange eyes peeing out and you have what I consider a winning combination!  This last week was all about seeing how many things I could made out of this delightful fabric.
The first item I made was the reversible apron.  I had a choice of combining it with either an orange batik or the lime strip.  Obviously the lime won.  
A few years back I made a reversible vest using this fabric.  One side was a combination of 3 stripes and the reverse was the peacock fabric.  I had just enough for the coordinating fabrics I used in the vest to made one of my small shoulder bags.  
The next item I made was the oval shaped coiled fabric basket.  I was very pleased with he look of this fabric once I got it not only wrapped around the rope but also sewn in place.  
Now it was time to come up with some hot pads.  I did a striped quilt as you go back ground and then appliqued an orange flower with a lime green stem and leaves.  I found the polka dot fabric I used for the center of the flower in my stash and liked the looks of it so much I decided to make a bigger orange flower on the next hot pad with an even larger center.  I then used one of the fancy stitches on my machine to add a bit of embroidery around the center.  I brought the large orange flowered hot pad to the Shelburne Arts Co-op this morning and it sold even before I managed to get a price sticker on it so that made me feel good.  I was also pleased that the customer who liked the hot pad also bought one of my aprons!  Nothing like instant gratification.  
It looks to be a busy weekend with my 88 year old Dad coming for a visit and also my daughter coming out from Boston for a delayed Mother's Day celebration.  I am really looking forward to seeing them both.