Southwest Designs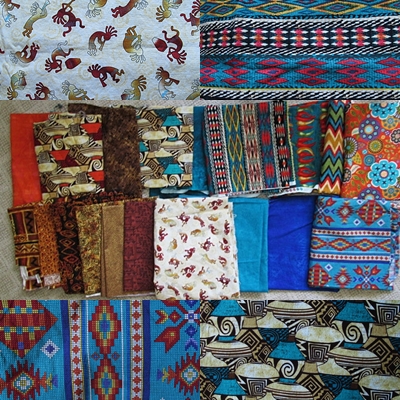 The last time this blog was updated was the day before we left for Santa Fe.  We've been back for more than 2 weeks and it feels like I have been playing catch up (and loosing).  I set my task of updating my blog and writing about out lovely trip to New Mexico today and post a photo of my fabric finds.
Last year at the beginning of June by husband Tim and I went to Santa Fe for the first time.  We loved Santa Fe so much that we decided to go back again this year.  Last year I did a small amount to fabric shopping (and purchasing).  There was not enough room in our suitcases so I was only able to purchase a couple of yards but the response to the fabrics I did purchase was overwhelming .  Folks really liked the southwest flavor of the items I made from this fabric.  I carefully set aside some cash so that I could do some serious fabric shopping this year.  In fact, I took along a small empty care on zipper bag just for my purchases.  
On Monday of our vacation, I went to one of the stores I had purchased fabric at last year.  The store sells primarily upholstery fabric but has a small but NICE selection of cottons.  OH ME, OH MY.....what luck, they were having a 40% off everything sale and boy did I go to town!  As you can imagine, the place was a mad house.  My arms were about to break holding al the bolts of fabric I wanted cut so the other customers took pity on me and let me set it down on the counter until it was my turn.  All of the fabrics (except the brown batik) in the top row were purchased at the sale along with the seed bead blue Navaho fabric in the bottom row.  WOW, I could not believe my luck.
There was still a second fabric store I wanted to hit and find some coordinating fabrics to go with this wonderful selection of southwest fabrics I had just gotten 40% off of and I knew just the place since I had shopped there last year.  Fortunately it was close by to where we were staying so the next day I drove over there and spent a delightful morning mixing and matching.  It was there that I found the wonderful kokopelli fabric.  I have to admit, I had a blast!  It was all I could do to keep from going back a second time.  I told the sales associates about the 40% off sale and that one of their competitors  was going out of business.  One of them wanted to know if they had any of the Navaho seed bead fabric left.  I still haven't cut into any of this fabric but it is all washed and in the cubbies just waiting for inspiration.  The first thing I am going to make is a tricolored apron from the kokopelli fabric.  One thing is for sure...I'm gonna have a lot of southwest themed items to sell this year at the local Garlic and Arts festival.  They sold really well last year so no reason not to make more.