Pulling teeth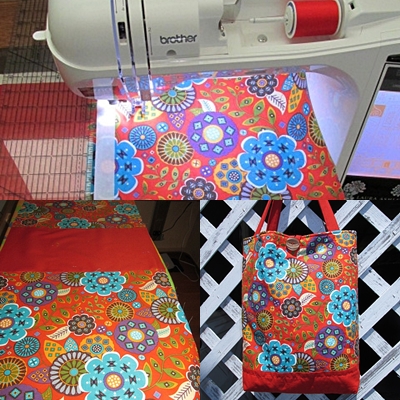 Ever had one of those weeks that's like pulling teeth?  That's how it has been for me this past week.   BUT, there is some exciting news to share.  Last year Wichita Webmasters installed an ordering module on this website to help make ordering a breeze.  A few days ago I got a message from  my web wizards..."do you know you have a order pending/?"  NO!  But sure enough, I did..FIRST ONE!  so, why didn't the order alert system work?  Come to find out, it was linked up to the wrong e.mail address.  Got that straightened out and now there's a problem with pay pal.  Same problem.   My customer, Michael was nice enough to reorder once the e.mail addresses had been changed but getting everything to work right was like pulling teeth but  his order for 2 coiled fabric baskets should be arriving in LA today....YEAH! 
I purchased this wonderful tomato red floral print in Santa Fe which was just begging to have a tote made out of it..   My friend Darci is a tote bag aficionado so I asked her for an easy pattern which she was nice enough to provide me with.  I am the first one to admit that I am lousy at following directions.  I got the sides and bottom of the bag sewn together but did not do that right so had to rip that out.  The next step (top photo) was to quilt the batting to the sides and bottom.  I found this nice decorative stitch to use and to keep it in line, I measured along the edge and placed masking tape so I could maintain it someway along a straight line.  Once it was quilted it was time to sewn the side seams but damn, they didn't line up!   Time to use the seam ripper again.  EEGAD!.. Once I got the side seams sewn together correctly it was time to shape the bottom on the bag by sewing a triangle along the bottom of each side.  Oh crap.  Once I turned it right side out,  one side was not properly lined up so time to get the ripper out again.  
I wanted the tote to have a couple of inside pockets so I attached them to the lining....yup, you guessed it, I sewed then on incorrectly so out comes the ripper again.  I finally got the pockets properly attached so now it is time to assemble the lining to the outside with the straps and top closing loop in between.  Once that is done, I turn the bag right side out though the opening I had left in the lining when I sewed it together.  It is then that I discover the closure loop is only attached on one side....ripper comes out again!  I get that straightened out so now it is time to press and top stitch along the top edge and attach the button.  BREATH a heavy sigh of relief it is finally DONE!    I do like this pattern, and now that I know how it goes together I can see me making several of them in a lot of different sizes but OMG....what an IDIOT!!!!