Runners, runners everywhere!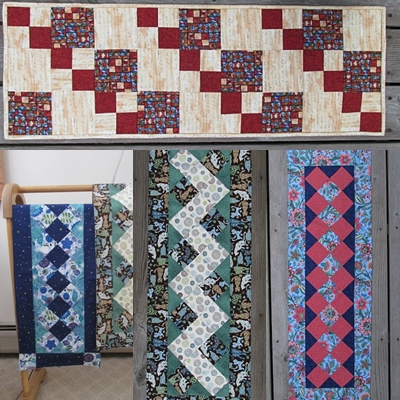 This week has been all about table runners  I made the 4 shown here plus two fall themed ones for the Garlic and Arts Festival which is the last weekend in September.   The design of the 3 in the bottom photos I have been making for years.  Many years ago I made a Boston Common quilt which has a Seminole border.  Once I got it made I took a look at it and realized that this border would make an excellent table runner.  It lends itself to strip piecing so it can be made quickly and inexpensively.  The top runner is a take off of the Carrie Nation block.  It lends itself to a quilt as you go project.  It can be assembled in 4" rows. Though the picture was taken with the long side horizontal, I actually assembled and sewed it together along the sorter side - 9 rows..  Each row is  two 4" squares and one 4 block square (4-2 1/2" squares with 2 red squares and 2 off white squares,  I decided to assembly it along the short side rather than the long side so there would be more quilting.    I really like the Carrie Nation block because if you use contrasting fabrics you can get a very nice effect.  I have blogged before about other quilt as you go (QAYG) projects and here is the link to the how to on QAYG http://newenglandfiberarts.com/node/170.  
Luckily I sold two table runners out of the shop in Miane that sells my work on consignment in June so 3 of these runners will be delivered to Mainely Quilts in Kennebunk, ME in a couple of weeks when we will be up north on vacation.  The runner with the navy blue border I just put in the wall hangings/quilts/table runners gallery and is available though this web site http://newenglandfiberarts.com/products/prod_detail/354.  I am currently working on  a southwestern inspired runner with fabric I purchased on a recent trip to Santa Fe so stay tuned!