Quilt without binding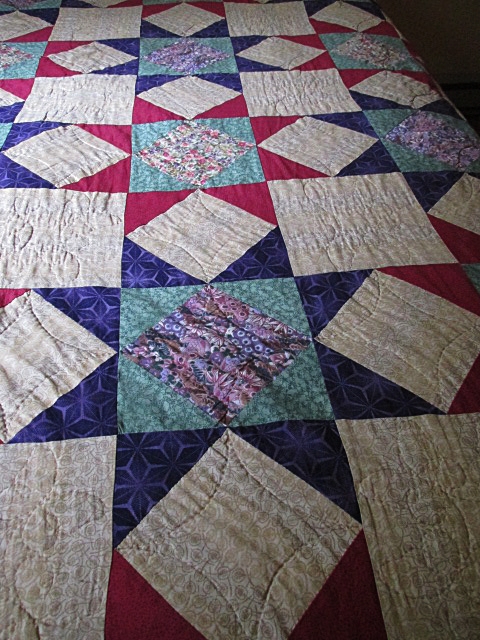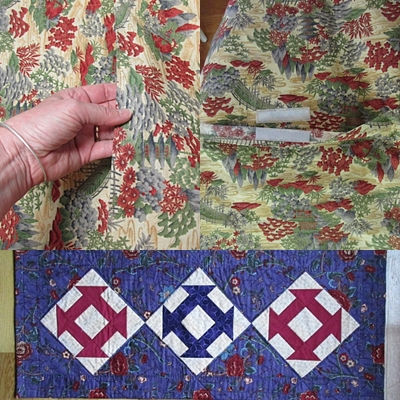 What you are looking at in the top photo is the very first strip pieced quilt I ever made.  I cannot even remember  how long ago I made it  This Ohio Star seemed like the perfect pattern for a first attempt at strip and machine piecing.  The Ohio Star is a fairly simple block and lends itself to strip piecing in a nice way.  When attempting something for the first time it is best not to tax oneself with too complicated of a block.  I felt I could not maintain a 1/4" seam allowance by eye so I drew the 1/4" sewing lines on so that I would have nice clean points,  I dislike waste, which there is little of when hand piecing.  With strip piecing there tends to be a bit more.  I had all these left over gold, burgundy and purple triangles.  I paired the purple and burgundy triangles with a gold triangle and made squares out of them and trimmed them to all the same size so the question was then...what to make?  I had never made this block before but when I saw a picture of it I really liked the looks of it on edge.  I found this lovely purple Oriental print in my stash and luck would have it, it went perfectly with the scraps I had made into this wrench block.  There is something very lovely and almost regal when you pair purple and dark red together.  This combination ended up being the second table runner I ever made!  The first runner I made did not have any binding, it was made like a pillow so that is how I assembled this runner.  
Fast forward to 2015.  There is a fiber arts show coming up next month that I will have some items in and this runner came to mind since it has this Autumn feel to it.  I have used it as a wall hanging from time to time over the years but was never happy with the way I had finished it.  I went out on the internet to see what I could find out about how to make a quilt without binding and found this wonderful tutorial.  http://www.redpepperquilts.com/2011/09/quilt-without-binding-tutorial.html.  What I found was that a table runner is the perfect use for a bindless quilt  because of it's size.  Also, a quilt without a binding gives things a more modern look which I thought kept with the feel of this runner.
I had not done the best of jobs with the backing way back when.  I could see that there was nothing wrong with the top but the backing needed to be tightened up a bit so I got out my handy seam ripper and relieved the backing of the excess fabric and resewed the side seams so that it fix better.  Next I attached a bit to velcro to the flaps so they would not be swinging in the breeze.  The last thing I did was to top stitch about an inch in along the edge.  It is now fit to be sold and hopefully it will find it's way to a new home next month.  In the mean time you can find it out in the wall hanging/quilt gallery.  http://www.newenglandfiberarts.com/products/prod_detail/380