Temporary set up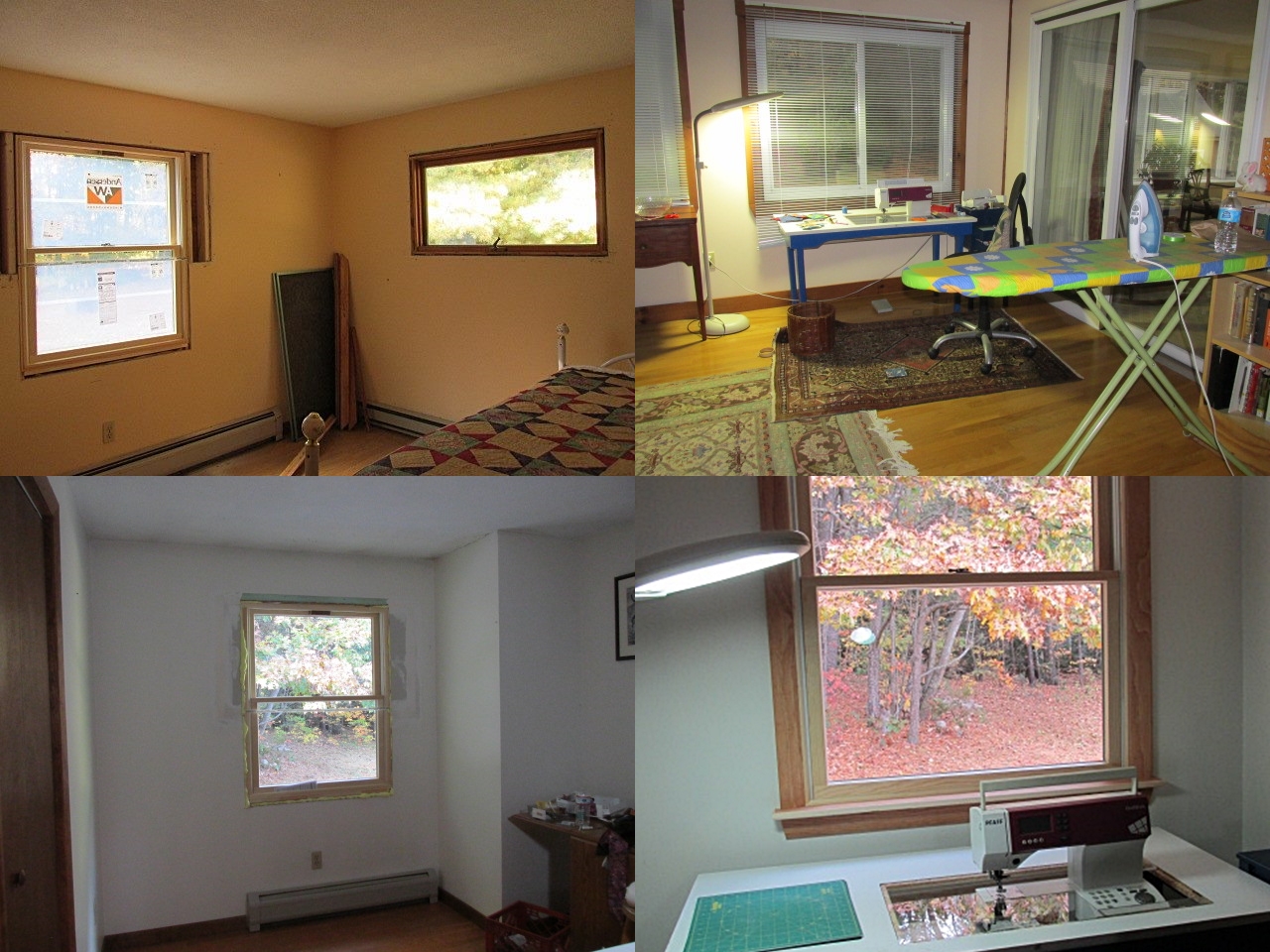 There has been so much going on lately it is hard to know where to start.  My work in is a new local location which is a food co-op but they have decided that they also want to sell the work of local artisans on consignment.  I dropped the work off about a week ago and when I went in this week I was very pleased by the way they had my work displayed. Fortunately I had enough inventory left over from the Garlic & Arts festival that I did not have to do any major sewing.  YEAH!  
The other thing going on is a major construction project which was going to be affecting my work space,  We were having all the windows in the house, except for the kitchen, reshaped and the house resided.  We have lived her for 16 years and so this project was a long time in coming.  We said from day one that we did not like the windows. The top left picture is of the back bedroom with one of the new windows installed and one of the old ones.  This gives you an idea of just how much nicer these new windows are.  AND, we now have window sills so we can actually put a fan in the window which we could not do before.  We had to screw in a shelf below the window large enough to accommodate a fan.  A real pain to say the least.
Since my sewing room was going to become a construction zone and I am not in a place where I can take several days off what with the need to get my holiday merchandise out to the shops, I needed to figure out where I was going to get set up.    There is a large 3 season room above a two car garage on the east side of the house.  Not only was this going to be the place we put all the stuff that needed to be moved to make way for the contractor but also where I was going to need to work.  It is out of the way and on chilly days, it has electric heat so I could take the chill off.  Most of the time this room is kept closed off during cold weather.  Was it ideal?  No, but I was able to crank out some balsam pillows and sachets this week and also get things ready for the fiber arts show that will be going up this coming Tuesday at the Arts Co-op I belong to so all in all, it did slow me down a bit but better than being stopped dead in my tracks.  
The bottom photos are of the new window in the sewing room.  The bottom left photo is of the new window roughed in.  I am not moved back in and as you can see, I now have a WONDERFUL view of my back yard when I am sitting at my sewing machine with lots of northern light coming in.  I am totally thrilled with all the new double hung windows and truth be told, if we could have had only one widow replaced  (rather than 6) it would have been the window in the sewing room.  We live in a lovely rural location and I am so happy that I can look out at mother nature from a seated position no matter where we are in the house.