Disappearing 9 patch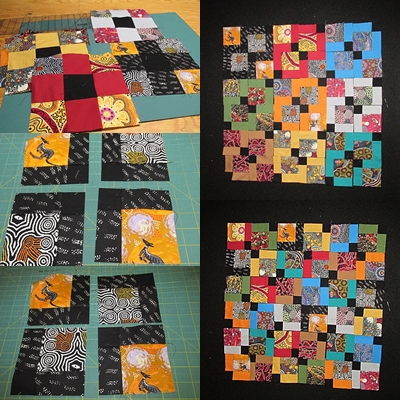 I have always wanted to make a disappearing 9 patch and the scraps left over from this Aboriginal runner (pictured at the end of this entry) gave me the perfect mix of fabrics to do this with.  The runner itself was a simple 9 patch but each section of the 9 patch block was a different fabric.  When using such bold fabrics it's best to keep the pattern simple so the fabrics can be seen to their best advantage.
The first thing I did was go through my stash and see what solid fabrics I had that would look good with these wonderful aboriginal fabrics  The fabrics already had a lot going on so best to combine them with solids.  Lucky me, I had several solids in my stash so I  ended up only having to purchase a couple of fat quarters.  I made 9 of these 9 patch blocks, enough for a small wall hanging.  To make the disappearing 9 patch you cut each of the 9 patch blocks into quarters and take the opposing corners and rotate them 90 degrees and at this point, you can sew these 4 squares together making a totally different looking block (see bottom left photo).  What I did was lay it out on my design wall, which is the top right picture.  Now, it's time to have some fun and start playing!!!  I knew when I started this quilt I wanted a very random scrappy looking piece and the bottom right photo is what I came up with.  I really like the looks of it, it has a lot more movement than when you keep the block together. I haven't sewn it together yet but I can see it needs a small solid or almost solid inner border so the eye will know where to stop.  This is very necessary when you have a piece as busy as this one is. I could not find an appropriate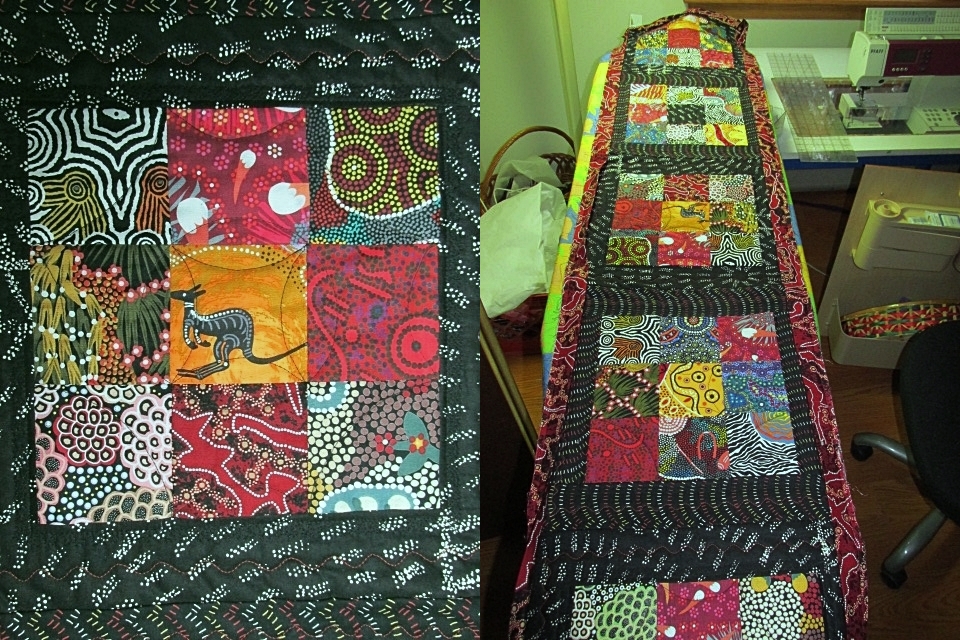 fabric for the outer border so  I will start looking for the right fabric once I have it all put together.  I LOVE scrappy quilts.  I like looking at them and I really like making them.  It always reminds me of putting a puzzle together and I like that the possibilities are endless.