A week of many colors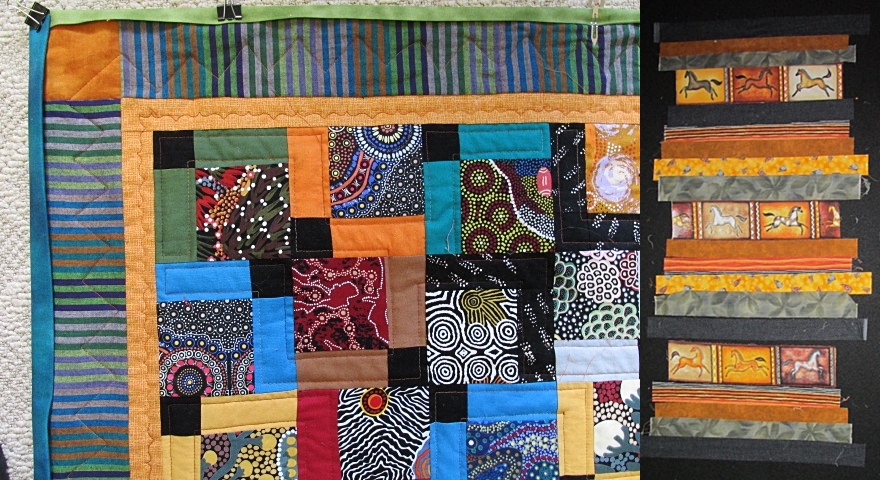 YUP, it has been very busy since my last blog post.  The borders have been attached to the disappearing 9 patch, the quilting is done, the binding has been sewn on so all that is left to do is to turn the binding to the back and hand sew it in place.  Time to start a new project, right?  This one I am calling "Sun Dancers"..I loved this horse fabric when I saw it and bought several other fabric that went with it.  I fussy cut the horse fabric (the horse squares are 4" wide across the width of the fabric).  Since it had such a horizontal fell to it, I though a quilt as you go long and skinny runner/wall hanging was in order.  The photo here is of the final layout on the strips on my design wall.  This quilt will end up being 16" wide and aprox. 42" long.  I hope to finish it this week, even though it is a short one what with Christmas.
This past Friday was a very fun day.  I had contacted my friend Candace Silver and asked her if she would be willing to scan my calligraphy portfolio..  In a previous blog entry back in November I wrote about having a individual show next August at the Shelburne Arts Co-op.  Having these pieces scanned is part of getting ready for this show.  back in the 1980's when I first started doing calligraphy I took a couple of classes to learn the different alphabet styles and then I started practicing, practicing, practicing and studying it on my own.  I eventually took it to another level and started combining art work with the words and eventually found a gallery that sold some of my work.  Through this process, I did not have a mentor to ask about what type of paper was best to use to part of the portfolio is not on acid free paper.  In order to be able to sell them, a giclee print will need to be made on high quality archival paper.  Candace is a very talented painter and when she branched off into photography, she purchased high quality scanning and printing equipment so she could have 100% control over her creative process. (see photo of Candace in her work room) In all the years I have know Candace I had never been to her home or seen her set up, this equipment and what it can do is VERY impressive.  She proceed to scan a couple of the pieces and play around with it.  The really amazing part of it was that when we looked up at the first piece up on the monitor, it did not register with either of us that it was reversed.  The last photo is of our first print and needless to say, we  LOAO when we saw it print out reversed.  There are several pieces that need to be scanned so I let my portfolio with her and I am sure she will do a bang up job.  The fun came in with getting to spend the afternoon with Candace.  She has a wonderful sense of humor and it is always wonderful to be around all that creative energy.  I did come home with two giclee prints and plan of exhibiting one of the in the Valentines show at the Shelburne Arts Co-op.