Pie Basket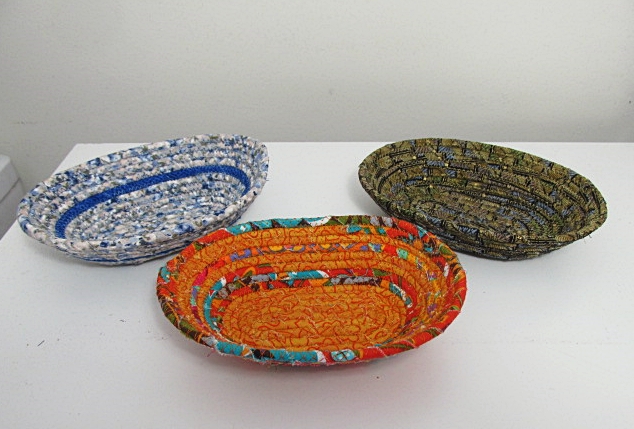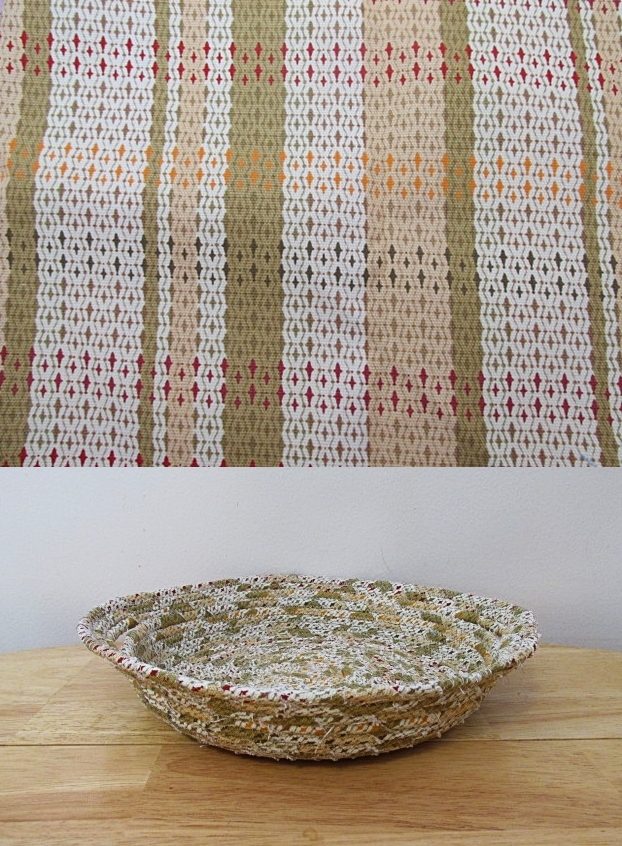 I started out the month of March being sick for a week.  If is difficult to sew when your nose is running off your face.  Once the fever disappeared and I was a bit more functional it was time to ply catch-up....no time to be updating my blog.  With spring in the air I was making LOTS of items with bright Spring-like fabrics and I finally got all the merchandise I had wanted to into my various retail outlets and even managed to have a few items sell in spite f it being March.  People seemed to be out and about and also doing some Easter shopping.  YEAH!
I week ago I came down once again with another viral infection and this one kicked my but worst than anything has in over 25 years.  Running a fever for a week is not much fun.  I had sold several of these small oval bowls right before Easter.  I all them my business card baskets because they are the perfect size to display ones business cards in.  It took be almost an entire week to get 3 of them made since I was fighting this viral infection.  
Getting up and discovering I was fever free after a week was a real boost to my spirits so I wanted to get some work done.  I had bought some cotton upholstery fabric that had this basket weave pattern to it.  I purchased a small amount with the thought of experimenting with it to see if it could be used for a coiled fabric basket.  This fabric is thicker and more loosely woven than regular cotton broad cloth fabric.  I cut the same width of strips I always cut and soon discovered that this fabric frayed VERY easily.  Wider strips were going to be necessary.  Once I had a few strips wrapped it was time to see if this fabric was going to be to bulky once wrapped around a rope actually make a basket out of.  Since I have discovered it best to use a smaller zig zag when making ANY coiled fabric basket things have been going much more smoothly with my basket making, NO skipped stitches.  This fabric was going to push the limits of my machine.  WELL, I was very pleased to see it hs no problem at all sewing this fabric.  I have been wanted to make a pie plate shaped basket and this basket weave fabic made a very nice looking pie plate shaped basket.  Does my pie plate fit into it?  NO, this was an experience at best and the idea was to see what it would do and how one goes about making one of these pie shaped baskets so...mission accomplished I am happy to report.  I will keep my eyes open for more some broad cloth fabric that has a basket weave to is since this fabric did hold other, it is a bit rough looking,  Who knows, maybe someone will see it and be delighted with the texture of this basket but I am looking forward to making more of these pie plate shaped baskets.