I know a good idea when I hear one!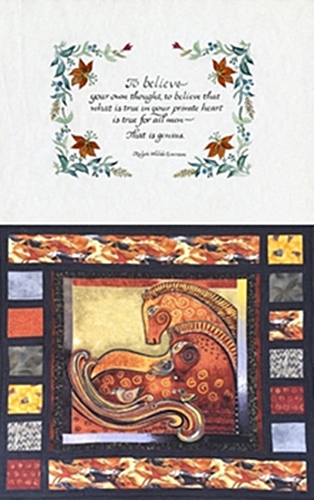 As I have mentioned in my previous blog entry...I currently have a solo show at the Shelburne Arts Co-op.  GOOD NEWS, I have had a couple of sales.  Yes, that was a relief!  I will admit that the thought did occur that I would be up on the main wall during one of the Co-op's busiest months and end up with no sales.  I was working last Saturday and this fellow came in a bought 2 runners AND the wall hanging "Coastal Sunlight" - YEAH! I had made the decision that as things sold to send them home with the customer rather than tag it as sold and leave it up and deliver it to the customer when the show comes down.  So, one Sunday I started making another Coastal Sunlight.  Here is the link to where I blogged about making the first one http://www.newenglandfiberarts.com/node/264.
My friend Margaret (see  for picture of her in previous blog entry http://www.newenglandfiberarts.com/node/266) was bemoaning that she lives so far away that she can't see my show.  My husband Tim had this great idea to shoot a video of the show and then post it on Facebook so not only could Margaret see it but so could others.  He down loaded it when he got home and the next day, I posted it.  Folks on fb made several encouraging comments.  Unfortunately I can can only post photos on my blog but if you are a Facebook user her is the link to it on New England Fiber Arts fb page. https://www.facebook.com/NewEnglandFiberArts/?fref=nf .
It is not enough to make a bunch of stuff and put it up on a wall if you hope to have any sales.  One has to take promotion into consideration.  I had a postcard made and chose the images on the left to have on the front of the card and the info about my show on the back.  I mailed a few out and handed LOTS of them out.  I also strategically placed the cards around in various places.  I also send out a mass emailing to everyone I know telling them about the show and inviting them to the artist reception which is this Sunday 2-4 pm at the co-op.  I have also been working social media in hopes of bringing people into the show.   I am keeping my fingers crossed that I have done a good enough job with the advertising that there will be a good turn out on Sunday for the reception.   
To add to the mix around all the work surrounding having a solo show running, my 89 year old father had hip replacement surgery on Tuesday.  I did a little sewing therapy to keep my mind off things since I was VERY concern and feeling upset.  So rather than just pacing the floor and worrying, I did something constructive and YES, it was good therapy.  It has been an interesting week so far!