Celebrating the arts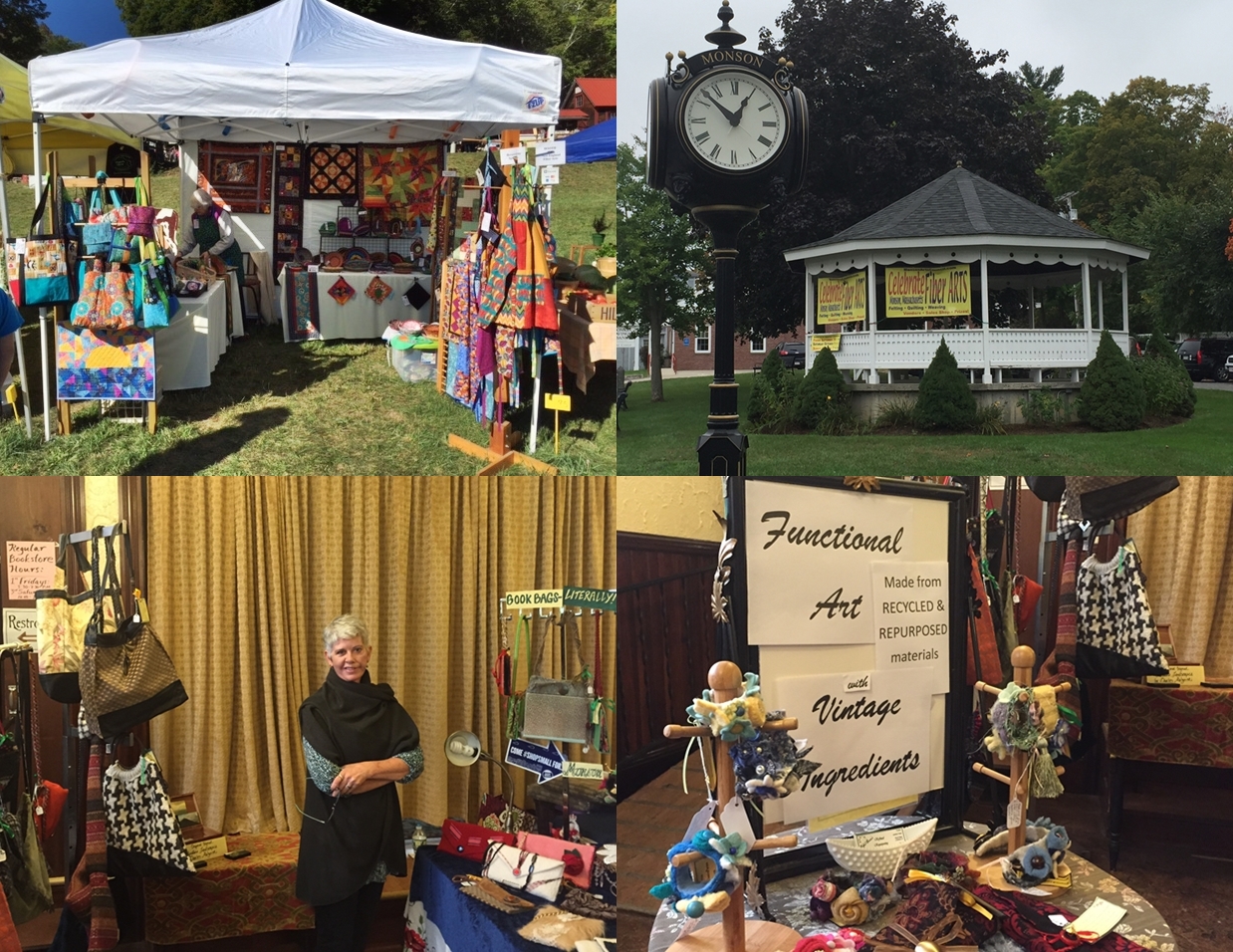 YES, it has been a very busy late Summer.  It started off with my solo show in August at the Shelburne Arts Co-op.  I was very pleased with how the show went but WOW was that a boat load of work.  Less than a month later (picture on the top left) I had a booth at the North Quabbin Garlic and Arts Festival, September 24th & 25th.  This was my 4th year participating in this lovely 2 day festival that celebrates the North Quabbin area, the arts and everything this beautiful area I live in has to offer.  At last year's festival I had  visitors  in my booth from the Monson Arts Council.  They asked me if I would be interested in participating in a juried  fiber arts show sponsored by them in 2016.  It sounded interesting but I had NO idea where Monson is and the date had not been decided yet.  I found and liked them on facebook so that when the date and information about the show was released, I would know. Unfortunately,  I had a scheduling conflict with the Monson event  The delivery dates for Monson, so they can get the show set up, was the same weekend as Garlic and Arts.  I was kind of bummed out that I would not be able to participate in Monson's Celebrating the Fiber Arts - 2016.   
In spite of yet another busy weekend, I set aside this Sunday to go to Monson and check out the show.  Monson ended up being about an hour away.  There was some confusion when I looked it up on their site if it started at 10 a.m. or noon on Sunday so I e.mailed them but did not get any response.  We got there at 10 and as luck would have it, it opened at noon on Sunday.  We drove around in the area since we had never been there before.  Monson it about 1/2 hour east of Springfield.  As you can see by the top right photo of the gazebo and clock, they have a very charming town common.  The show was in the small arts council building, the large Memorial Hall next to it and the Unitarian church across the street.    Memorial Hall was devoted to exhibiting large quilts, with some of them for sale.   Along the edge of the room area retail quilt shops had tables selling fabric, small quilts and notions.  
Next we ventured into the Arts Council building which had a small consignment shop run by the Arts Council.  There were also several rooms dedicated to smaller wall hangings, woven items and felted items. There were plenty of volunteers on hand at all the locations to answer questions with white gloves on so if you wanted to check out the exhibited items more closely, the would handle them for you. The rules are that you can submit up to 3 items in each one of the fiber categories.   The fee is $25 for the first item and $10 each for the next two. It was up to the artist if they wanted to sell their work with 20% of the price going to the arts council.  
Lastly we checked out the exhibit in the church across the street.  This space was for fiber artists who wanted a booth for selling their wares   There was everything in there from hand dyed and spun wool to an artist (who's name was Annie) selling repurposed upcycled creations out of vintage items (see bottom 2 photos).  The people I talked to were not participating in the juried show.  It was a very interesting and eclectic combination of fiber art.
This was  the Monson Arts Council's first show devoted to the fiber arts.   I have been to plenty of quilt shows.   I was delighted  that other forms of fiber art were represented in Monson  The other interesting part of the show was that the items in each of the 3 different categories (quilts, weaving and felting) were all judged and money and ribbon prizes were awarded.   There was the retail/selling aspect of the show but it did not detract from the show itself.   It was a lovely exhibit and hopefully it will become an annual event that I will be able to participate in next year.