Practicing what you preach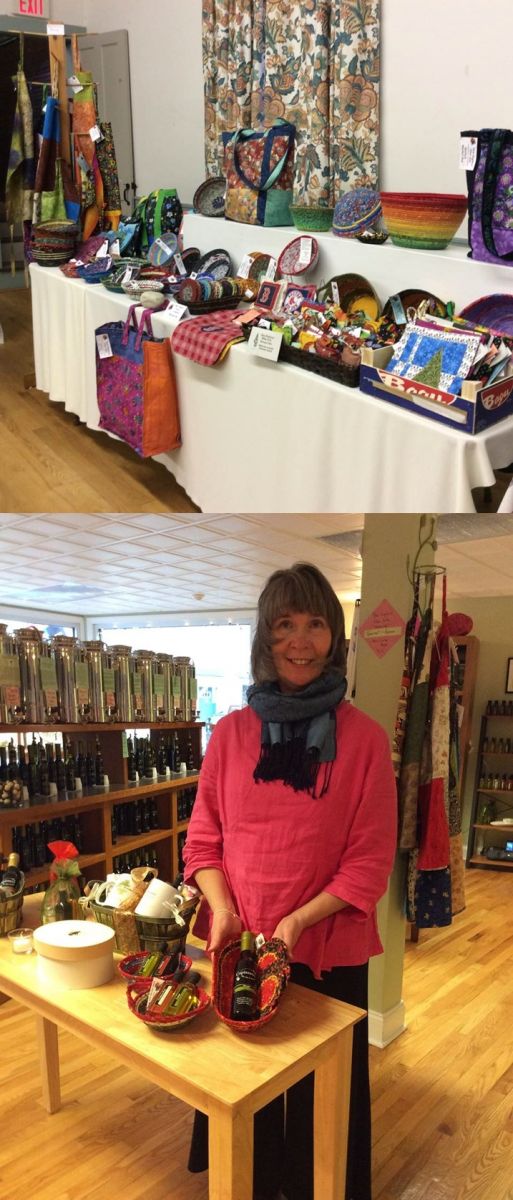 OH MY...it has been OVER a month since I have updated my blog.  Shame on me!  There has been a lot going on in my little fiber arts business and something had to give and that was obviously updating my blog.  I signed up and got a table at the 12th annual Wendell Holiday Craft Fair which took place December 2nd & 3rd,  I had to get ready for that and ended up making 28 coasters, which I sold individually as mix and match coasters.  I realized it was a holiday fair so some Winter and Christmas fabric bowls needed to be made.  The top photo shows my table (and apron tree) at the fair.  The organizers of the fair donate the proceeds to the art and music programs at the local elementary school.  Even though Wendell is a VERY small town and off the beaten path,  it was the 12th year they have put on this fair and people support it,  To my great surprise it ended up being a fairly successful show financially for me, not to mention all the REALLY nice people, including the other table holders, that I met.  There was good food and entertainment which contributed to the festive atmosphere and many donated items were raffled off...LOVELY!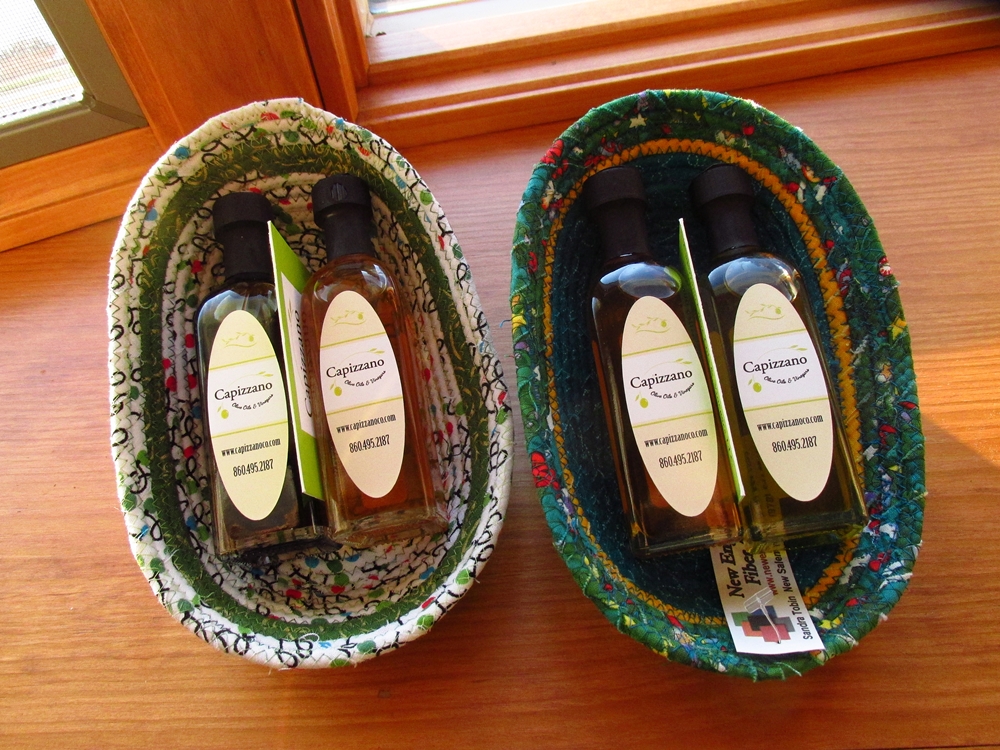 In my previous blog entry I talked about my aprons being in a LOVELY store in Connecticut which is owned by my friends Steve and Suzanne Capizzano.  When I told my friend Mary Jane about the Capizzano's and what they were doing, she was VERY excited by this and said....ROAD TRIP!  By the time our schedules allowed us to go, they had managed to sell two of my aprons at the store so this gave me an opportunity to not only deliver more to them but also show them my coiled fabric bowls and coasters.   MJ was VERY impressed with Steve and Suzanne and their knowledge of their product, just as I was on my first visit,  We were both able to stock up on some EVOO and balsamics PLUS MJ was able to put together a lovely assortment of items for her gift giving needs.  Suzanne loved my coiled fabric baskets and a few of them have now gone to play at Capizzano Olive Oils and Vinegars.  The bottom photo is of Suzanne in the store holding one of my baskets with the matching set of coasters in it plus a bottle of their EVOO.  As you can see, it makes the PERFECT gift basket for their product.  This trip ended up being a mental health day for me since I hadn't had a day off in ages.  MJ and I had a really lovely time.  Pictured on the right is the two gift baskets I made this week for my husband to gift to his co-workers along with some of what I procured on our trip.  I think it's good to practice what you preach!  Suzanne pointed out to people today on social media that this is the gift that just keeps on giving,  First to get to enjoy their tasty product  and then you also have this decorative bowl that has all these wonderful uses,  It's ALL good!