Every quilt has a story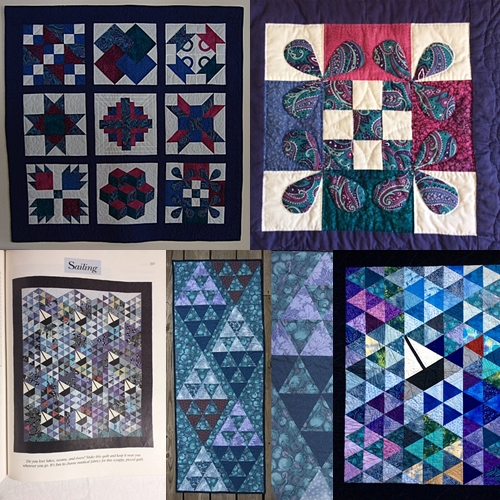 Until now, most of my blog entries have dealt with the technical aspect of my craft.  Today, however we are going to get a bit more personal.  I recently put a wall hanging into Capizzano Olive Oils & Vinegars  on consignment (see lower right photo) and was asked about the story behind the quilt so here it is! 
The top two photos are of the very first quilt I every made in 1999.  The top right photo shows the anchor fabric (an anchor fabric is the central fabric around which a quilt is organized).  In this case, a jewel toned paisley print.  I simply loved the movement of this print and it's lively colors.
In 2004, my niece Emily and her boyfriend (who is in the Navy) found themselves stationed at the Naval Yard in Bath, Maine.....just 3 hours away from us!  Needless to say we were thrilled.  When they became engaged, I showed Emily a quilt entitled, "Sailing" in a quilting book and she liked it.   I asked her if she would like me  to make it for them as a wedding gift  and was give a resounding "YES"!  
As you can see from the photo,(bottom right) it is a scrap quilt, .  I had not been quilting long enough to have enough scraps to make an entire bed quilt, but some of the scraps from the above mentioned first quilt and other projects did find their way into this quilt top.  I also needed to purchase a lot of different fabrics to achieve that scrappy look and I did not have the experience yet to know exactly how much I would need.  I ended up with a lovely quilt top for my niece, a large box of scraps, one lonely leftover sailboat, and a TON of the triangular pairs which formed the backbone of the quilt.  My goodness, what was I going to do with all this leftover fabric?
Fast forward to 2015.  I am looking through a quilting magazine and see this table runner based on 60 degree triangles, just like "Sailing".  That box of scraps immediately comes to mind.  What I need is several matching triangle pairs of the same fabric PLUS matching fabrics that would look good together since this was not going to have a scrappy look to it.  I fished out the matching units and laid it all out on my design wall and YES, I had enough of everything including the fabric for the sashing.  Like I said, I had a boat load, (no pun intended) of leftover fabric, enough to make a 20" X 60" quilt. (center bottom photo) and I still had tons of scraps left so back in the box they went.  This quilt, "Water Music" sold recently at the Shelburne Arts Cooperative so it has found a new home!
Fast forward to the end of 2016.  My husband Tim and I drive down to southeastern Connecticut for a long weekend and  to see what our friend Stephen Capizzano and his wife Suzanne where up to.  It was such a delight to see Stephen in his element, his home town, living his dream and bringing high quality evoo and aged balsamic vinegars to his home town.
The next day, we went to see their new store on the beach at Watch Hill, RI. . OMG.....the second I walked into the store, I could see what a wonderful location this was and  that box of scraps with that orphan sail boat block that had been sitting on the shelf for years would fit in this shop perfectly.  Now, I have made quilts for people and special occasions but this would be making a quilt for a location.  I talked to Stephen about livening up the store with some of my work, but we did not get into specifics.   The store would be closing for the season in a couple of weeks and not opening up again until the Spring so I had plenty of time to pull out "the box".  By the time we let the store I had visualized a smaller version of "Sailing" up on the shop's wall.  
I had so much fun pulling out the different fabrics and bringing them together with that one left over sailboat, which was just sitting there waiting to be made into a wall hanging.  That orphan sailboat was the center of the quilt and it all just fell into place, just the way I envisioned it.  There is photo of it in the quilt gallery. http://www.newenglandfiberarts.com/products/prod_detail/488   I could not wait to show this wall hanging to the Capizznos, which I did this past week.  They loved it and it will be gracing the wall of Capizzano Olive Oils and Vinegars at their Watch Hill location when they open for the 2017 season on April 15th.  That is, until it sells and finds a new home.