Shopping in the Finger Lakes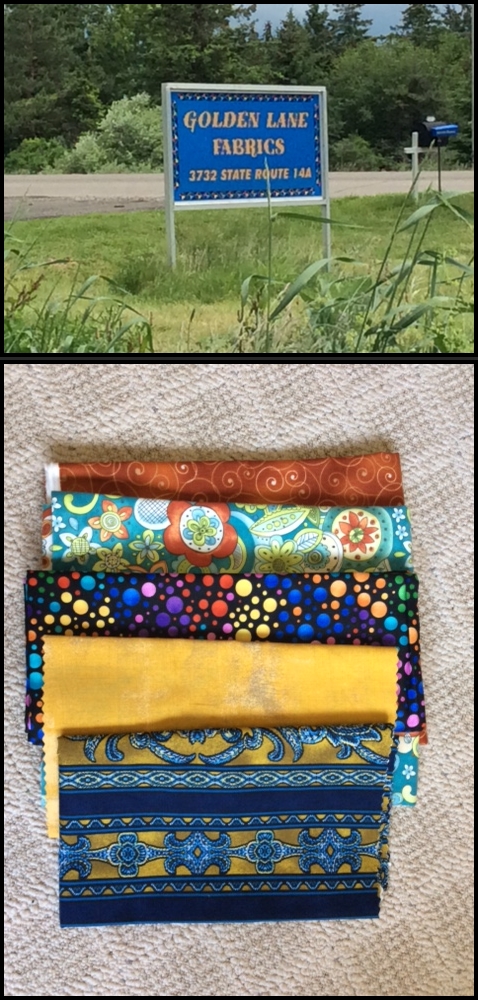 One of the joys of traveling if you do ANY sewing is checking out the local fabric stores.  My husband and I were in the finger lakes area last week.  If you have never been to this area, it is a seriously beautiful place.  Back in the early 1970's I lived in the Canandaguia area for a few months.  I was definitely looking forward to being in the area again and seeing how it has changed.
We started out the week in Geneva, NY, which sits on the north end of Seneca Lake.   We found a fabulous breakfast place (the Captains Table) where all the locals eat.  Low and behold, there was a fabric store just down the street.  This particular store specialized in preprinted panels - LOTS of them.  There was not a large selection of bolt fabric since half the shop was taken up with a workshop area.  I always talk to the owners when I am in a new store.  She was a lovely lady and gave me the card for another store in the finger lakes...about 40 minutes from her shop.....COOL! 
One of the things I did not remember about the western part of the finger lakes is that  there are Mennonites living in the area.  The store we were going to is owned and operated by Mennonites. What this means  is fabulous selection and prices since these communities makes their own clothes they quilt.  I experienced this same phenomena when we were visiting Lancaster County.  This store is in Penn Yan, NY and like the one I visited in Pennsylvania was off the beaten track but well worth the trip.  All the fabrics were 20-30% less than fabrics in most stores.  PLUS we got to travel through the dairy farming part of the finger lakes and that too was a treat.
I found an interesting fabric on the sale table (the blue and gold stripe) which I knew would make a very interesting coiled fabric bowl.  The trick was to find a matching gold.  You may not be able to tell from the picture but it is a very unusual gold color and I looked long and hard to find the matching fabric.  I purchased the black dot since I could visualize it as part of a rainbow colored bowl.  The rust colored fabric and it"s matching print I felt would make a very cute apron.  This store also sold shoes, socks, straw hats, bonnets and every notion you might want.  It was obviously a place for the community to shop for many of their needs and everything was very reasonably price.  
I would not say that the finger lakes area is a bonanza of fabric stores since most people go there to taste wine and enjoy the lakes.  If you are lucky enough to find yourself in this beautiful area and you sew, this out of the way fabric store is worth the drive.