Seeing Green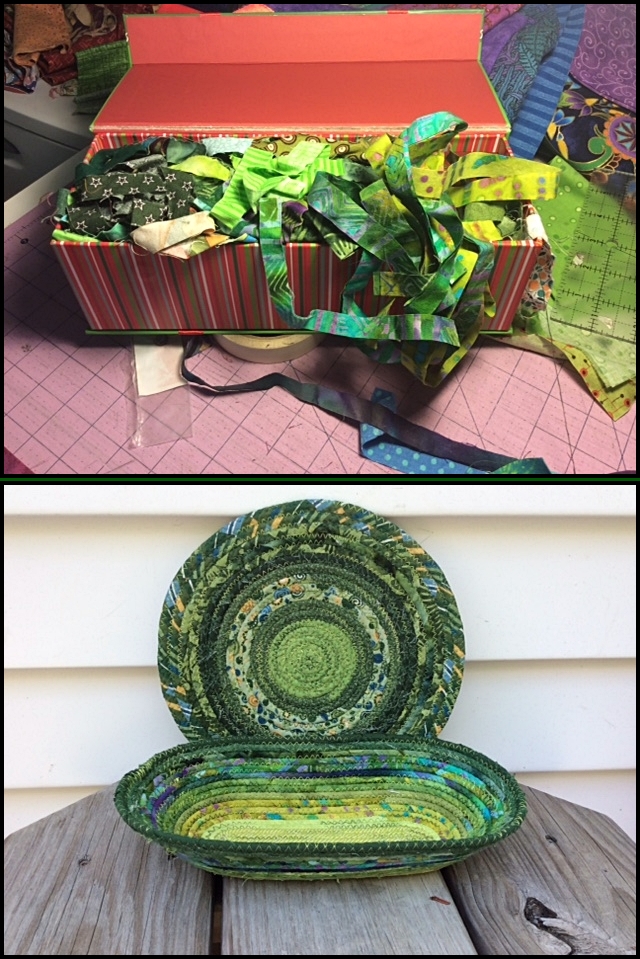 For those of us who do a fair amount of sewing, an ongoing issue is keeping ones scraps organized.  That is, if you are not a compulsively organized person, which I am NOT!  So, you may ask, why don't I just throw out the scraps?  The reason is economical - fabric is expensive.  The other reason is also economical.  I don't want to be running to the store and buying more fabric when I need just a little bit of a certain color to make a design more interesting or pleasing.  Having a wide variety of scraps allows me to have a wide and interesting variety of colors and textures to choose from when I am making coiled fabric items. The issue with keeping scraps organized has become even more of a challenge since I started making coiled fabric baskets, which are made from narrow strips of fabric.  A coiled fabric bowl needs to start and end on the same vertical plane and also, when one is using different fabrics in a bowl, those different fabrics usually need to begin and end on that same vertical plane. I try to guesstimate how many strips I will be needing of a fabric to fashion the desired pattern and size but it is not an exact science so hence there are always left overs.  My friend Margaret., who also makes coiled fabric items, told me she organizes her left overs by color so I do that also.
I noticed this week that I could no longer close the box I store my green scraps in.  Time for some scrappy green items.  They wonderful thing about scrappy projects is that there is a looseness to them.  I let go of the changing of the fabric on the same vertical plane and wrap the strip to it's very end.  The other thing that I also do with a scrappy item is use a lot of different fabrics in order to use up all those tiny drips and drabs.  I also let go of the idea that I am going to be able to visualize what it is going to end up looking like.  I really do enjoy the freedom and creativity that goes into making scrappy items.  Also, when pulling the strips that will be used, it is not a grab as you go, I check them for tone and color.  I try to find the family that the scraps belong in because green just isn't green.  It comes in all sorts of hues and shades.   
I started out the trivet with the polka dot fabric and then pulled the fabrics out of the box that seemed to be in it's family.  Since I wanted some contrast I pulled a few darks, a few mediums and a light, which I was going to use for the center.  The trivets are 8.25" across.  I usually use 3 different fabrics to set up a pattern.  This one has 6.  I had several strips of all the fabrics I pulled so it actually doesn't look all that scrappy but it was made from scraps!  
I am currently getting ready for a 2 day festival in September so I am building up my bowl inventory. I have a lot of this one size of oval basket and only a couple of larger ones so I decided to go with a medium size oval for my green scrap bowl project.  People are always asking me what they can use thess baskets for.  I tell folks that these medium ovals are the perfect size for their remote controls....HA!  I had several purple/green batik strips so that is what I started with and I wanted it to be gradated going from light to dark.  Making a gradated basket is an acid test of my sense of color and hue.  I think it is important that these gradated basket have a lot of different textures to them to make them visually intersting.  It took me a LOT longer to find the family fabrics for the basket than it did for the trivet.  There is a hint of other colors going on so it isn't completely monocromatic which I think adds to it's visual interst. 
Saddly I only used up a small fraction of my green scrap collection and unearthed even more green scraps when I put away a pile of fabric that had been sitting on top of the clothes dryer this morning so the green scrap box is still full.  Can you say waging a loosing battle?