Hidden treasures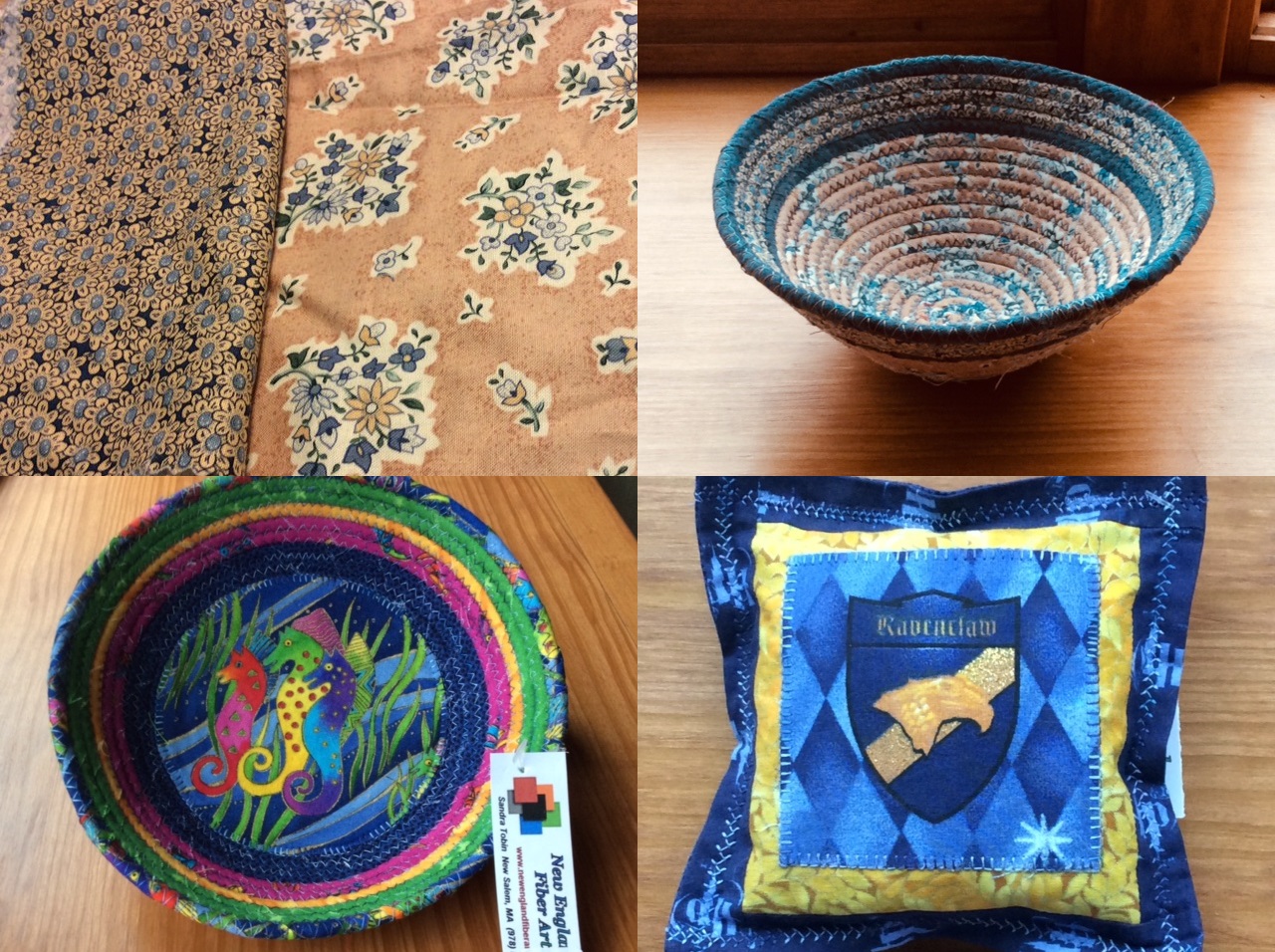 It has been ages since I have updated my blog.  This is due to how busy I have been getting ready for the local 2 day festival which a will have a 10 x 10' booth in the last weekend of  September.  I first did the Garlic and Arts Festival 5 years ago and discovered it takes a lot of sewing to fill a booth that size. Having a booth is fun because of all the wonderful people you meet but it is also a test of ones display and sales skills.  I am always looking for ways to improved my booth and this year I came up with the idea of having a specality fabric section.
One does not need to spend a lot of time in a fabric store to become aware of the myrid of specality fabrics.  Novelity, reproductions and licensed prints to name just a few.  My friend Margaret, who also makes coiled fabric bowls recently told me she had aquired some vintage fabric at a yard sale.  This intrigued me.  How old does a fabric need to be before it is considered "vintage"?  Do I have any vintage fabrics in my stash?  
I decided to do some research about vintage fabric since I am anything but an expert. Of course, I goggled it.  Sites like ebay and etsy have folks selling what the say are vintage fabrics.  Sometimes in the salvage of the fabric it will say when it was printed so this will give you a hint. I purchased the pictured fabric from a store who was selling left over scraps.  This fabric had the pinking shears taken to it and the salvages had been cut off.  I showed the fabric to someone who really knows fabric. Her best guess is that it was a ditzy reproduction print.  Ditzy = 1930's, reproduction means new fabric that minics a bygone era.  This got me to thinking again.....I probably have LOTS of specialy fabrics in my stash which I can make things from and put them in the Garlic and Arts festival labeled as such.  It gives me something to talk to people about and educate them a bit about fabric.  I love an experiement and this is what this is...an experiment in display and marketing.  I am truely hoping people find it intersting and even more important...FUN!
To me, a vintage fabric should be 40-50 years old to be considered vintage, not so.  What I found is that the seahouse fabric goes into the vintage catagory because it is VERY rare, OOP (out of print) and part of a well know desiger's collection, Laurel Burch's Ocean's Song collection.  It is one of her older collections so even though it is NOT old it is considered vntage and also more valuable.  
What really shocked me was the Harry Potter fabric I purchased back when it was realeased in 2001.  Since then several other Harry Potter fabrics have been released.  The fabric I have was from the very first collection and I discovered is that it is not only extremely rare, OOP but also considered a collectors item.  WOW.  I found one person selling fat quarters (18" x 22" cut) of this collection for $20...holy cow!  That's $80/yard.  I made 6 different 6" balsam pillows from this collection and they too will be in my specialty fabric section at the Garlic and Arts Festival.  I am happy to have something different to show the loyal people who come every year.  I have more specality fabrics which I will blog about another day but I was really pleased to find these hidden treasures in my stash!