How to make a square coiled fabric bowl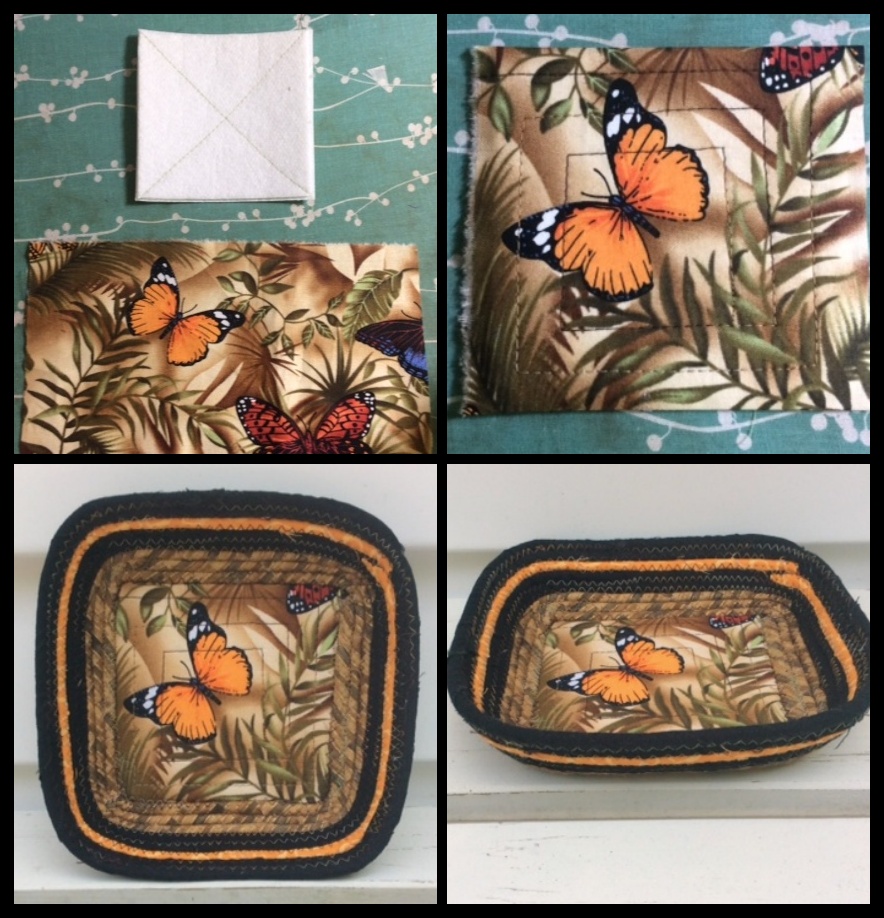 While we were on our trip to PA, I saw my friendMargaret was making square bowls.  COOL!
She verbally explained to me how to do it.  It is very difficult for me to take in instructions verbally.  But I HOPED once I sat down at my machine I could figure it out. 
The base of the bowl, what gives it it's structure, is peltex.  Once you hit it with an iron, it fuses fabric to it.  Since I did not want any raw edges, after I cut out the rectangle, I folded under all the edges and used hemmimg tape to keep it closed along all the edges and along the back where the it would be coming together.  I then quilted it.  WOW, VERY time consuming.  First one I made was the from the navy tea time fabric.  Perhaps there is a better way to cover the peltex.  Second square basket I used the wine fabric.  It was going to be a larger basket.  This time I made a pillow for the peltex, slid it into the pillow and used the hemming take along the open edge, leaving a small opening to insert the beginning of the rope into.  Once again, VERY time consuming.  How am I going to make these in a timely manner so I can sell them?
Several days passedbefore my next attemp.  Since I felt the first two were a bit floppy, I doubled the amount ot peltex.  I stitched an X across the double peltex so it would not slip.  The though was perhaps I was making making this base tmore difficult than it needs to be.  cut out the rectangle from the butterfly fabric, wrapped it around the peltex, not worrying about raw edges and leaving an extra 1/4" along the rough edges to sew the rope to and on the back, lapped on side over the other and stuck it together using the hemmng tape.  Fused it leaving an opening for the rope and quilted it.  
I quilckly found out that I should not have left that 1/4" raw edge along the 2 sides.  II sewed the first two rows to rope along the square and the reaw edges did not look good from the bottom of the basket so I trimmed them and zig -zagged them.  Much better but once again...TIME CONSUMING!  I finished the bowl and think it looks GREAT.  It is a small bowl which I cannot charge a fortune for so I am still looking for the best way to cover that peltex and make the base.  BUT, I do really like the looks of these pictorial square baskets even though they are so far, a pain to make!