Cross Body Purse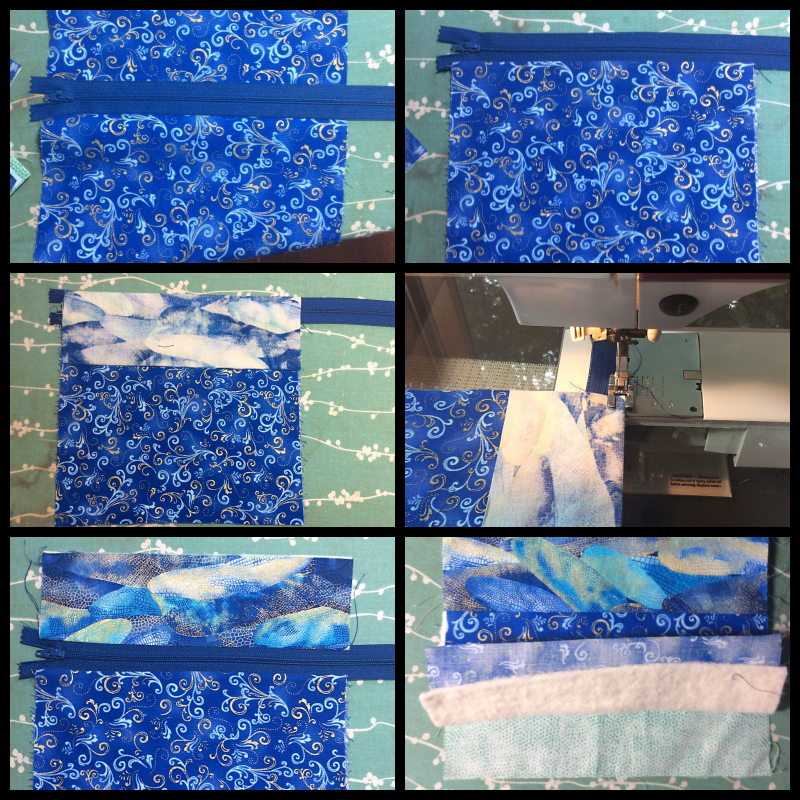 How did this happen...an entire Summer has passed.  This has, by far, been my busiest summer.  I find myself, once again, getting ready for the N. Quabbin Garlic and Arts Festival which is know locally as GAAF.  GAAF takes place the last weekend in September.  And, YES, it takes a lot of merchandise to fill a 10" X 10" booth.  
A few weeks ago I started making these really cute cross body purses and they have proven to be very popular.  Over the past 2 days I have made 3 of them.  A 1/2 yd. of two coordinating fabrics are needed along with a zipper at least 9" long and a 8.5" X 10.5" piece of batting.  A have made several on this little bags over the summer.  This is the "Lazy Girl Designs Run Around Bag #111." by Joan Hawley, giving full credit to the pattern maker.  
You may not believe this but this project put me in front of installing a zipper for the first time.  I love Joan's approach to it.  Since there is a top and a bottom of the purse, you simply fold the bottom section in half, which then gives you the lining to boot.  Lay the zipper along the inside edge of the fold, stitch it, using your open toed foot, open it up and press it.  (top two photos) The middle two photos show the same thing happening but with the top part of the purse.  The bottom left photo shows the front of the purse done.  The great thing about zippers is you can cut them to lenght.  
The back of the purse has a pocket.  You cut it out, fold it in half and stitch along the fold.  I used metallic thread and a decorative stitch.  The lining, back of the purse and batting are sandwiched together with the pocket placed along the bottom edge of the back, bottom right photo.  
Now it is time to make the strap.  I used a 48" piece of nylon para cord.  It has a nice feel to it and is very strong but light weight.  I cut a 48" length of it and then melt the ends.  
Now it is time for assembly, by far the most time consuming part of making this little bag.  First thing, unzip the zipper.  You stacked the four pieces of the back together : lining side wrong side UP.  Next comes the batting, then the back, right side up and then the back pocket.  I then trimmed then so they were even.  Now you stack the front of the purse with the zipper open with zipper pull to the inside on the top of the other pieces.  Trim the front so it is the same size as the back   Now it is time to place the cord (strap) in position between the front and the back 1/2" from the side edges along the top.  To reduce bulk between all the layers, pull the strap through the zipper opening.  Be sure to not only pin the strap in place but also pin all the layers together.  Now it is time to stitch the purse together.  Be sure to use a seam allowance that is large enough to catch all the layers.  A walking foot might help at this point but since I have everything pinned, I just slowing stitch around all tour edges.  I talk my time since I will also be sewing through the zipper teeth. Turn the purse right side out through the zipper opening and press.  http://newenglandfiberarts.com/products/prod_detail/674