Desert Fire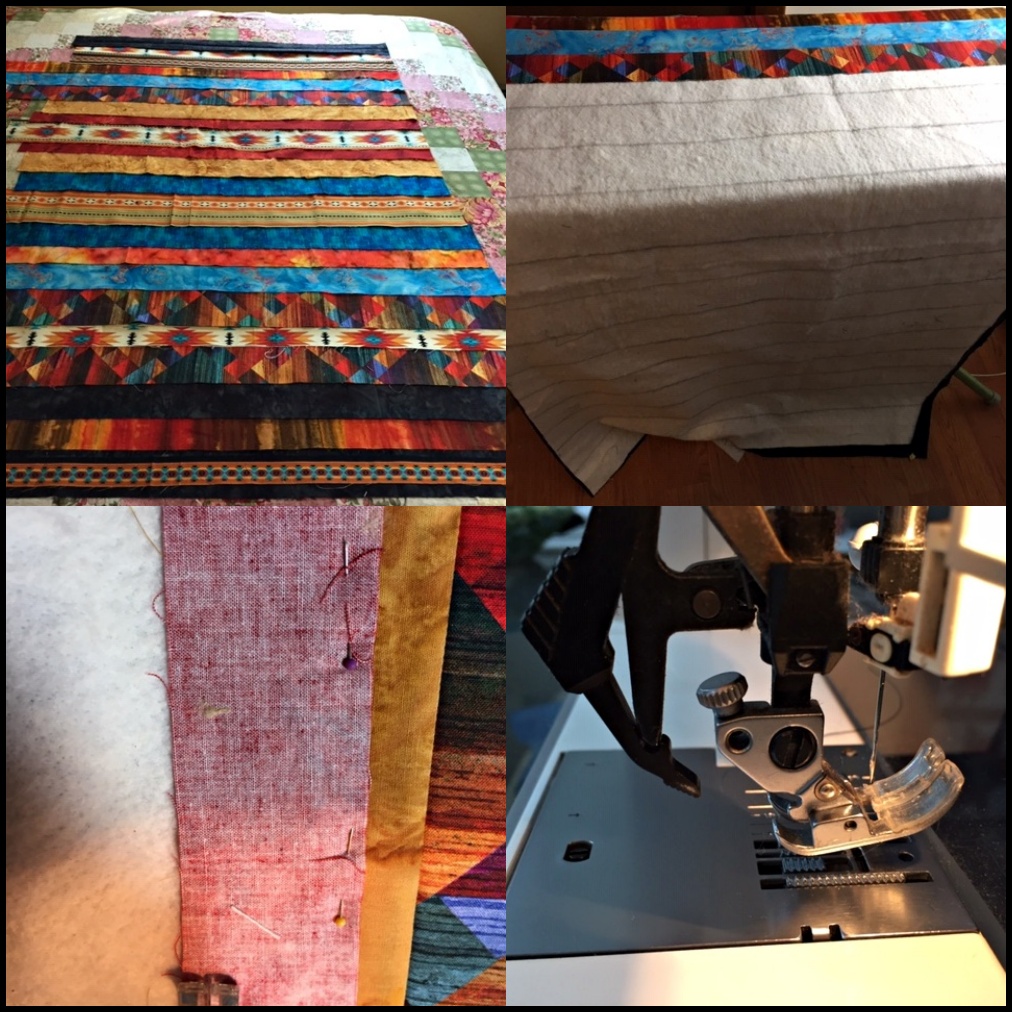 This Christmas my daughter gave me several yards of fabric from my favorite store in Santa Fe, NM.  Due to the pandemic, she knew it would be awhile before I would get a chance to visit one of my favorite cities again.  One of the things I love about Santa Fe is all the wonderful and colorful art .  I am especially attracted to the baskets and the rugs. When I go shopping there the fabrics I bring home always reflect this.  The questions was what was I going to make from these fabulous fabrics?
I didn't jump into it right away and spent a bit of time just taking in the fabrics.  Next step was to go into my stash of other fabrics I have brought home from Santa Fe in the past.  If was obvious that many of them played well with 3 of the Christmas fabrics. The only fabric NOT from Santa FE that I added was the black. When you have so many interesting and colorful fabrics to work with, you let the fabrics do the work so the best design was going to be a simple one.  One place we rented in Santa Fe on one of our trips there had this fabulous hand woven rug on the wall so I took that as my inspiration.  Once I knew which fabrics were going to be in the hanging and had a rough idea of the design I started cutting the strips.  I had no idea what size this was going to end up but the red fabric from my stash was going to limit me to a 30" wide hanging.  I cut several strips and started playing around with different  ways of laying out the fabric.  I played around with these a bit every day trying the fabrics in different orders.  The top right photo represents the order I settled on.  
This is not the first time I have made one of these horizontal strip quilts.  All of them up until now have been a lot narrower.  I knew I would use a quilt as you go technique and that if I wanted the strips to be straight across I would need to draw guideline.  No mater how careful I am there is always some kicking when the strips are sewn in a quilt at you go so I drew lines every 3" as a guide.  I soon found out that ever with the guidelines keeping the strips horizontal across 30" was difficult and I soon discovered that each strip was going to need to be pinned (bottom left photo).  One of my machines is a Pfaff quilter which has a built in quilting feature that can be clicked into place when quilting (bottom right photo).  This was the machine I used when making this quilt.  
 I used many different colors of contrasting thread and lots of different decorative stitches to quilt it.  A real tour de force!  I wanted a narrow black frame around the quilt so I used a solid black for the binding and also the backing.   I finished hand sewing the hanging sleeve onto the back today and went looking for a hanger.  I did not have a proper sized wooden dowel but I had some old gold colored cafe curtain rods kicking around so my husband Tim cut one down to size.  We had talked about hanging this in the kitchen above the table but today at lunch Tim felt it should be hung at the top of the stairs.  As luck would have it, it fills that space beautifully!  We have a raised ranch which you enter from the basement so to get on the main floor you have to climb the stairs.  Not only did Tim come up with the perfect place to hang it but also the perfect name, "Desert Fire".  We are delighted to have this wall hanging in our living space reminding us of  us of a place we truly love.